get fit, have fun at the alila seminyak
Published: 07-05-2018 - Last Edited: 24-10-2022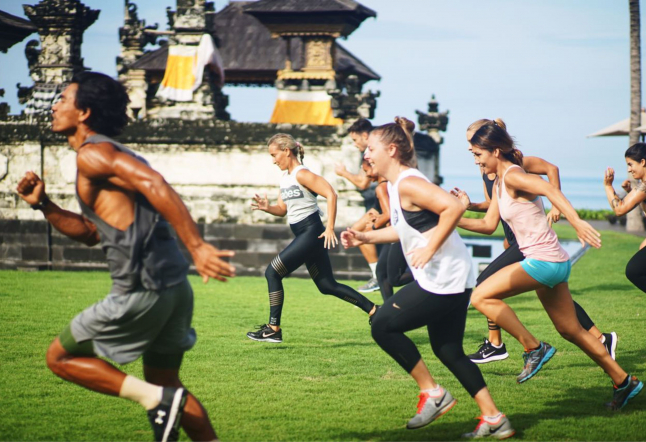 Ready to get fit, eat well and pamper yourself? How about a rejuvenating spa treatment and a healthy lunch to top it all off? You can find all of this and more in the Wellness program at The Alila, Seminyak. You can dive straight into this program early Saturday morning with a playful GET FIT HAVE FUN workout class, with certified trainer Dede. The beachfront vibe and ocean view immediately inspires you with a sensation of vitality. This fitness class includes core strength, balance and mobility training, while providing a tailored workout to suit all levels, from beginner to advanced. Dede is a former basketball professional, and is a true expert in giving clear and practical instructions. Before you know it the class is over and you feel great having powered through! Then it's time to get rid of the sweaty clothes and spoil yourself with the perfect 3-hour spa treatment at Spa Alila. Their treatments use only fresh local ingredients which smell delicious on your skin. Surrounded by sublime modern architecture,  Spa Alila feels like a real experience of rejuvenation and relaxation, leaving you with a renewed sense of well-being. Its facilities offer the opportunity for couples to enjoy their treatments together – which is what we just enjoyed! You are taken from one room to another to enjoy a delicate full body scrub, a powerful Vichy water treatment and a relaxing 1 hour massage. What would be the perfect end to such a Saturday morning treat? A healthy coastal lunch at SEA SALT of course, seated right in front of the Indian Ocean. Chef Vivian goes above and beyond to put his culinary expertise and skill at your service. With a dash of Japanese infusion, this fine dining restaurant is a distinctive culinary experience. Being vegetarian, vegan or even raw, will only get him more inspired to present you with inventive and tasty dishes. The coastal ambiance, warm and attentive service along with the quality of the cuisine being served, makes it a pleasure to experience and come back to.
* 60 minutes class -open for public every Saturday at 7:30am, purchase ticket at the front desk 15 minutes before class.
For more info on Bali's best spots for the modern yogi STAY | SPA | PLAY | EAT | SHOP | YOGA – Download our ULTIMATE BALI GUIDE for free.
Read next >>
bali agung show