fig tree hill resort
Published: 07-01-2018 - Last Edited: 09-11-2022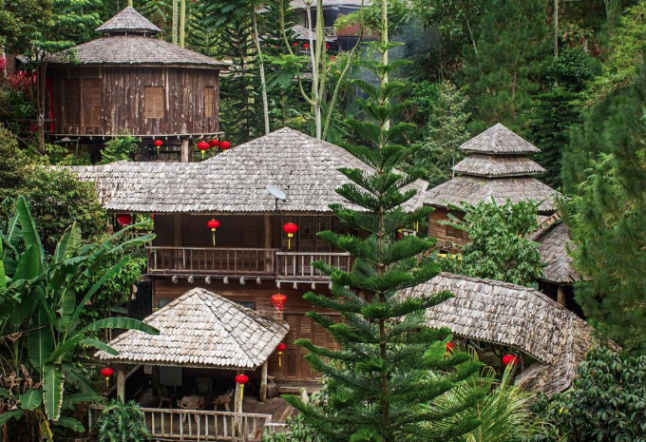 A short one-hour flight from the main city of Kuala Lumpur, takes you to Fig Tree Hill in the tranquility of a lush resort in Sungai Ara in Penang, north-west of Malaysia.
Looking alike a small Balinese-inspired hidden village in the middle of the jungle, the property is only accessible through a 4 kilometers long one way path for the opportunity to unwind fully. From right and left of the path, you are surrounded by various Durian tree farms which only bloom in June and July.
Built atop a sheer tropical hill (hence the name!) each of the 6 villas are made from recycled woods and materials imported from exotic places such as Laos, Myanmar, Thailand and all carefully build by talented craftsmen from Indonesia. They have a striking scenic view and are individually decorated by the owner himself, Mrs Peter Soon, an avid collector of Peranakan antiques which create a very eclectic atmosphere of unique finds.
At Fig Tree Hill your personal butler will graciously respond to your needs, in a very understated matter. If you are looking for white-glove service this is not your place, the service here is casual and genuine, yet extremely attentive. Your stay includes a simple set breakfast (ask for vegetarian as it's not) and could offer a few more healthier options. There is no restaurant on site, so plan ahead if you are intending to stay a few days without having to go down and up the hill. If you want to move around town, you need to rent a car or organize with the manager Sim, who is extremely accommodating and cheerful, a real gem to the place.
If peace and relaxation is your aim for your stay, keep off the Chinese holidays as the resorts gets filled with Karaoke enthusiasts (yes oddly all rooms have a Karaoke set included!) and turns into a jungle singing party time.
All other time, it's a real hidden secluded heaven of lush, serenity and privacy where you can fully relax and write that book you have been talking about for a long time!
For more info on Bali's best spots, including STAY | SPA | PLAY | EAT | SHOP | YOGA – Download THE ULTIMATE BALI GUIDE 2018 for free here: http://bit.ly/BALIGUIDE2018
Read next >> 5 day pure flow yoga retreat in koh phangan