ethos
Published: 19-12-2017 - Last Edited: 16-11-2022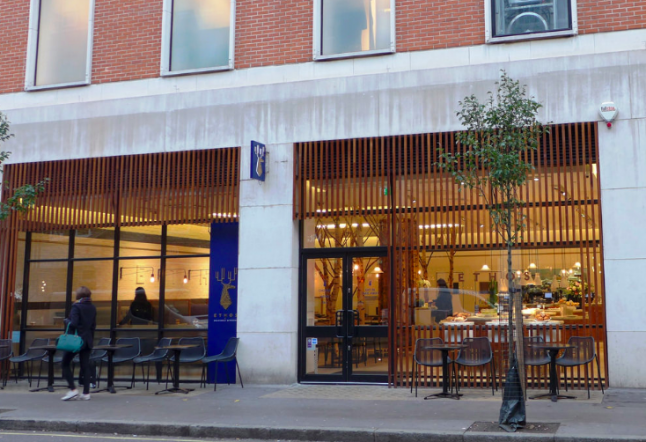 A redesign of the lukewarm hotel buffet has been long overdue in Britain. Enter Ethos – Soho's Scandi-chic meat-free, weigh as you go, all day vegetable smorgasbord. Tucked off Oxford Street, the white-marbled tables and counters are surrounded by fairy-lit silver birch with a log fire at the back of the woodland.
It's 1 p.m. and swarms of London's media set are circling the three counters of the buffet, which are all vegetarian-friendly. Each dish is clearly labeled with a list of ingredients and allergy information albeit vegan, gluten, dairy or nut free. Grabbing an Ethos-branded plate, I opt for a medley of roasted, tahini-spiked cauliflower, chilli and sesame topped aubergine, and a black quinoa and chickpea salad crowned with pesto dressing and a dollop of hummus. Joining a communal table, a fellow diner has gone for the Instagram-famed signature Scotch egg accompanied by some pasta bake and vegan ribs. Asking his verdict, he commends the bread-crumbed egg as the perfect hangover cure. As I tuck in, I am met with pleasant surprise at the temperature and texture of the most taxing of vegetarian cooking: the aubergine.
Whether a coconut latte or flute of 'skinny' Prosecco takes your fancy, Ethos has this covered, further offering an extensive list of organic wines and natural herbal teas. Following mains, focus on the sugar-free sign and gravitate toward a slice of perfectly gooey gluten-free millionaire shortbread or follow the crowded hiatus around the dramatically presented meringue display and love-heart shaped salted caramel biscuits.
Having returned to the restaurant on three occasions this month, my frequent returns speak for themselves. The ethos of this ingredient-focused, allergy-friendly buffet is a top vegetarian hotspot.
Read next >> the fields beneath