E'Njoni Cafe
Published: 30-10-2012 - Last Edited: 09-11-2022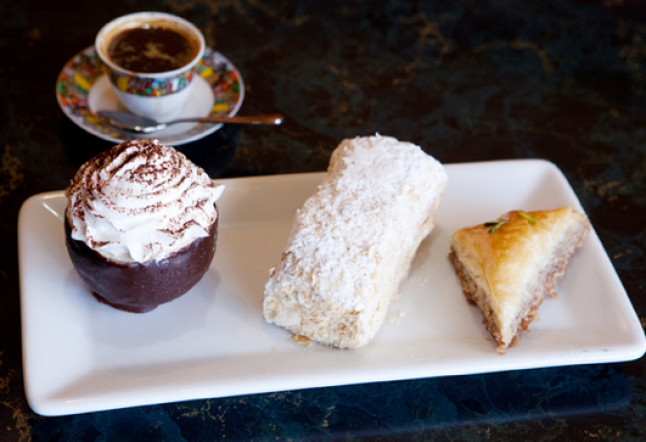 In the last few years, the stretch of Killingsworth Street near the North Portland campus of Portland Community College has seen revitalization and an influx of colorful, welcoming international restaurants. E'Njoni is one of these.
The friendly staff, warm golden-toned walls and casually elegant atmosphere of this family-owned business make it a great asset to the neighborhood. It's also the perfect place for people on special diets to sample Ethiopian and Eritrean dishes. While E'Njoni serves meat, the menu is heavily weighted towards vegan and gluten-free dishes.
If you have a hard time deciding what to order in restaurants, visit on a Sunday for the all-day buffet. On a recent trip the buffet included nearly 20 vegan items. Buffet standouts included keysir, a spicy salad made from red beets, and bamia zigni, okra and chickpeas in ginger and garlic sauce.
E'Njoni's appetizers include fried plantains, Mediterranean stand-bys like hummus and falafel, and fuul, a spiced fava bean dish with tomatoes, onions, peppers and feta. Three vegan soups are available daily, but the best is the filling and delicious peanut yam. If you're not ravenous, you can make a lunch of a cup of peanut yam soup and a hunk of bread. Servings are generous, so if you come with a friend you might want to get a five-vegetable sampler served with spongy injera bread. You can pick five dishes out of the more than ten vegan choices which revolve around vegetables, lentils and chickpeas.
If you're lucky, your visit will coincide with a traditional Ethiopian coffee ceremony (called "buu'na") from the Kaffa province of Ethiopia. This cultural tradition starts with the host burning incense. Then he roasts a small amount of green coffee beans in a long-handled pan. He grinds the roasted beans, then brews them with water in a clay pot called a "jebena" and serves the coffee in a beautiful little cup. Coffee doesn't get any fresher than this. You can also order red bush, anise or ginger honey tea from the tea menu, or try Ethiopian beer or wine.
Read next >> prasad