elena brower, the true heart of a yogi
Published: 13-08-2012 - Last Edited: 30-10-2022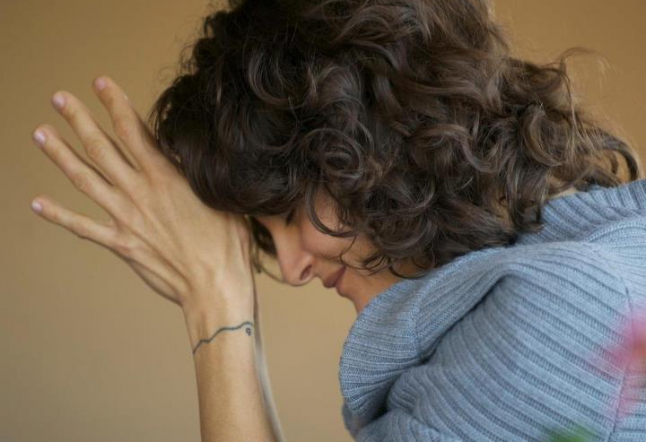 Clear – simple – gentle"¦ those are some words that immediately come to mind when describing one of Elena Brower's yoga classes at Virayoga in Soho, New York. There is definitely something very special about Elena; you know it when you walk in the door. Maybe it's the calm, soothing voice she uses to nurture every student into a pose?
Maybe it's the relaxed pace of the class itself which allows for an energetic opening of the heart and leaves you melting into your mat at the end of your yoga experience? Maybe it's the beautifully sweet and loving students that are attracted to this special gem of a yoga studio in New York? May be it is the kind and welcoming staff that make you feel as if you have entered a special sanctuary that you will want to come back to time and time again and practice yoga?
Or maybe it is just that sitting down with Elena inspires you to be a better human being?
Regardless, Elena Brower is one of those true yogis who teaches yoga by example in New York. She has learned through her journey how to open her heart and that is the real work she selflessly sets out to teach others.
Some of the main teachings that Elena Brower brings into her yoga classes and coaching sessions surround 4 key concepts:
Make Peace With Where You Come From
The ability to make peace and resolve conflict with family ties has been a critical component of Elena Brower's teaching. As she describes, "today it seems to me that everyone is striving to be amazing in the world, make lots of money and really get out there. But for myself, when it came down to it, any effort I ever made to be bigger or more well-known was truly empty before I was really able to apologize and make things right with my family." Elena Brower sees family as the cornerstone to her yoga practice and teaching. As she continues, "There is a lot of work to do within the family and for us to take on family in the context of our practice and really get things aligned, opened and healed is not only a privilege but our imperative if we are ever going to advance along our paths."
Show Up Fully For Your Family
It's important to be there for your parents and siblings, but most important is to be there for your children. Elena Brower firmly believes in developing our childrens' emotional intelligence through honest, elegant dialogue. As she explains, "Across the board, I don't see people paying enough attention to their children the way they could. For a long time I had a hard time with it too. I've since learned the importance of being there for my child: listening, being honest, asking questions and being present. When a parent takes this on, it changes the whole world. If you want to save the world, get down on the floor and listen to your kids. I want them all to know how magical, heard and seen they are."
Listen. Don't Speak.
Elena Brower feels as if listening is key in any interaction or relationship we may have in life. As she explains, "the main concept I have found in my teaching, coaching and in my own life is that it is really difficult to be present when somebody is telling you something that is hard to hear. With true listening skills, there is a new level of awareness that we can bring to our relationships that really does make a difference. Our listening makes things sweeter and easier for everyone involved. This concept of listening is really important to me."
Open Your Heart
Her years of study in Anusara gave Elena Brower a beautiful foundation from which to explore the nature and evolution of her practice. In recent years she's incorporated Handel Group coaching concepts into her teaching. According to Elena, "yoga is much deeper than following a given asana lineage, it is about exploring ourselves deeply as teachers, listening to our own heart and providing a safe space for others to open within themselves." Her classes are just that sacred space.
Elena Brower is very busy these days creating partnerships that focus on giving back. In fact, GIVE, the signature scent she has created with Alexandra Perelman, benefits Women for Women International. They're creating more scents, one of which will benefit Christy Turlington Burns' Every Mother Counts.
One of her most exciting projects includes the launch of her upcoming book, ART OF ATTENTION. As she says, "Art of Attention is a dream come true – to have an actual book open on my mat while I'm practicing, to write in, touch, lean on. We'll ultimately develop ways to enjoy this book electronically, both my co-author Erica Jago and I wanted to hold an actual book in our hands. There are 5 practices in this nomadic workbook, and the distinct design, layout and location of each chapter gives voice to our vision for each of the practices. We intend to inspire our readers and students to create and recreate their own healing practices at home."
The book project is currently an active Indiegogo campaign, which will pay for the creation of the book, print a numbered, limited edition of 3000 copies, and help Elena Brower and Erica give 1000 copies to teachers in training with organizations such as The Lineage Project, The Akasha Project and The Africa Yoga Project (they give one away for each pre-ordered copy on their Indiegogo campaign). Elena calls it a privilege to match each gift, keep it all flowing and help training programs both far away and in her own backyard.
As busy as Elena is these days, she's never too busy to give and be of service. As she describes, "It is a privilege to be there fully for my students and especially for my family. To me, that's what yoga's teaching me how to do."
For more information about Elena and her yoga teachings and coaching.
Follow Elena Brower on Facebook.
Her Blog: virayoga.blogspot.com

Read next >> susan derwin