el león
Published: 12-04-2011 - Last Edited: 08-11-2022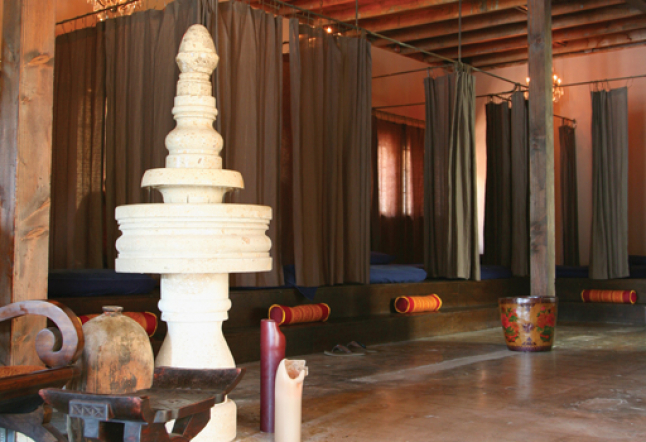 We crave the human touch so much that many of us include massage, bodywork or facials in our monthly budgets. When it comes to spa value for money, El León delivers the mind-body healing goods in a Moorishly magical mode. This cultured and comforting haven looks and feels more like a private palace in Spain than a spa. As a friend joked, "I'm booking a series of treatments at El León this summer instead of going to Madrid or Morocco."
El León owes its inspired ambience and over-the-top treatments to owners Shauna Leenher and her husband Barry. These elegant nomads, designers, antique collectors and parents got their start with Silver Lake's The Raven, a sexy little day spa, and they've made the grander El León into a roaring success.
Book a soak or scrub in the dreamy, steamy hammam. As you may already know, the hammam is the Turkish/Moorish/Arabic bathhouse and social center. El León's comforting hammam is where impeccably polite staff will exfoliate and rub you to your heart's content. Hanging out in the hammam literally cleans and conditions LA-clogged lungs. For those of us who frequently drive freeways, a regular steam and scrub makes sound, preventive health care sense.
In particular, one of the most sensually and cosmetically rewarding treatments at El León is the Turkish Soak & Scrub (30 minutes, $65). In a private scrub room, you can experience the traditional pleasure of Turkish cleansing. After soaking in the deep, claw-footed bathtub filled with an ancient Byzantine recipe of pure plant extracts and herbs, you then rid your body of unwanted dead skin with a body scrub. This is a treatment that boosts circulation, eases muscle tension and leaves skin feeling baby soft.
Prepare for your treatments with an essentially relaxing treat via the Turkish soak ($35, 20 minutes). In this magisterial bathing experience, you have the wet room completely to yourself while floating in the deep, claw-footed bathtub. Filled with an ancient Byzantine recipe of pure plant extracts and herbs that detoxify and nourish skin and body, this soak is a privileged chance to bathe like a sultan (or sultana). 
Featuring a cultural caravan of massage treatments from Thailand, Hawaii, Europe and beyond, El León has also cornered the market on organic Ayurvedic facials. Ayurveda is the Indian art and science of wellbeing and the oldest documented body of holistic medical and healing plant knowledge, It is a system of plant oils and herbs originating in India over 6,000 years ago. Ayurvedic facials here come highly recommended as they satisfy every aspect of a person's skin and well-being. Even better, all products used are 100% organic and are carefully selected for their powerful qualities.
The Organic Ayurvedic Facial (70 minutes, $135) is a custom designed Ayurvedic ritual that helps restore natural radiance and balance by detoxifying and deeply nourishing the skin. Organic herbs, essential oils, natural fruits and minerals help generate a youthful, radiant complexion. This treatment comprises an extensive face, head and neck massage to tone, stimulate and enhance blood circulation in the upper body and various organ and body systems. The Mini Organic Ayurvedic Facial (40 minutes, $80) is a condensed version of the Organic Ayurvedic Facial, and incorporates the same profound benefits of the full version. 
El León may be the best place for a spa party in LA, as its atmosphere feels so very far away. Party packages start as low as a few hundred dollars. Remember, if you can't afford a Moroccan or Spanish vacation, you can always enjoy El León instead.
Read next >> via derma