sarinbuana eco lodge
Published: 30-05-2012 - Last Edited: 15-01-2023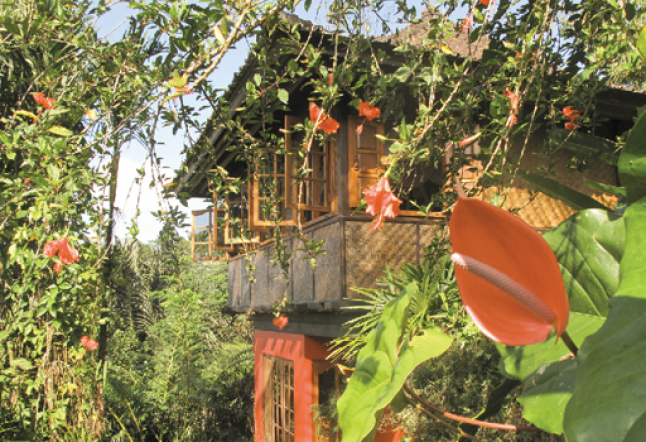 With a picturesque setting on the slopes of Mount Batukaru, Saribuana Eco Lodge provides a genuine haven for those looking to immerse themselves in nature and to experience the true essence of Bali.
Charming, secluded bungalows with names like Tree House and Jungle Lodge cling to the hillside, with wooden verandas offering bird's eye views of steep valley walls blanketed in thick rainforest. Far below you can see the sprawling coast of Kuta – so near, yet a world away.

The first thing you will notice is the bird song – woodpeckers, kingfishers and parrots are at play in the forest canopy, black eagles streak effortlessly across the pastel sky,  the looming peak of  Mount Batukaru creates a dramatic backdrop. Natural building materials include bamboo, and local timber, like coconut and jackfruit, while floors are made of hand crafted terracotta tiles. Fresh cut flowers, colourful woven textiles, and warm patchwork quilts (the nights can be chilly in July and August) create homely comforts. 
Being Green
The lovechild of dedicated environmentalists, Linda and Norm Vant Hoff, the lodge is about as 'eco' as it gets, with well documented green credentials, including the 'Responsible Tourism Award' in 2007 and 2010 (wildasia.net). The tenets of sustainability, low impact building techniques, effective resource and waste management, are all faithfully adhered to, everything is in perfect balance with nature; but we sometimes forget that there is more to the environment than physical factors.

From Norm and Linda's point of view, an eco lodge is: "sustainably connected to the natural, built and social environment"; and the lodge has become a valued extension of the village and the community of Sari buana.

While you enjoy the lush setting, the comforts of home, and a range of nature based activities, you can also feel good in the knowledge that your stay here contributes to the local economy on a number of levels: the lodge employs 26 staff from the village and have trained locals as trekking guides and massage therapists.
Also Read>>> Best Cold Plunge – Ice Baths
Ongoing community projects include extensive tree planting; free English, martial art and football classes for village children; the sponsoring of a university student; and ongoing additions and improvements to the school. It also acts as a role model for responsible tourism by promoting low impact activities, with an emphasis on trekking, walking, bike riding, and swimming in the waterholes.

Enormous value is placed on the preservation and promotion of local culture, with popular workshops providing genuine insight into everyday life in Bali, and the chance to gain time-honoured skills. Learn Balinese calligraphy, Indonesian language, and how to play a traditional instrument, or join the village ladies who teach the art of  creating beautiful temple offerings, table settings, and cooking; while Pak Ketut, a remarkable and inspired wood carver (responsible for  the ornate carvings in the bungalows) shares his craft and his wisdom.
A walk in the garden
When Norm and Linda first took over the property it was dominated by grass with tethered Bali cows and coconut trees. Twenty years on, the gardens are flourishing with over 100 edible and medicinal plants.

The garden tour is a fascinating and informative journey with landowner Jero pointing out all manner of herbs, spices and plants, and explaining their traditional & culinary uses. Look out for the fiddle tip ferns – they make a great salad served with shredded coconut and Lombok chilli, while the dainty ginger flowers are equally tasty.

Delicious, wholesome cuisine served up in the restaurant focuses on Balinese flavours, much of the produce is picked fresh from the garden, or sourced locally, including coffee and cacao, and home made ice cream is flavoured with the vanilla that grows here.
A meandering path leads down to the water holes passing sweetly perfumed coffee trees, a grove of salak (snake fruits), dangling passion fruit vines and a plethora of tropical blooms. Bamboo benches and open air bales are scattered about the property, ideal for yoga, meditation and soaking up the silence. If you are feeling more energetic take an early morning hike up to the top of Batukaru, emerging at a peak with views stretching over to Lombok and Java; or journey into the largest wetland rainforest in Bali, home to luwak (Asian civet), pangolin, leopard cats, and monkeys.
The beauty of the Eco Lodge is that it can be enjoyed on so many levels, hide away from the world in a secluded mountain paradise, or put yourself out there as you immerse yourself in the nature, culture, and community. For Linda the Eco lodge has provided "a chance to give back", but she makes it clear that she gets back as much as she gives.

For her the greatest joy is "to be connected to the environment, the people and the land, making a living and a life with local people who are incredibly talented." Make sure you spend some time with Linda and Norm so you can learn about their various eco projects around the island, including their two latest eco resorts, Bali Eco Stay and Sumba Sari Resort; and their new Bali starling breeding program, working with the Begawan Foundation. Norm & Linda are both available for sustainable project design and consultancy.

More on Yoga in Bali 

For more info on Bali's best spots for the modern yogi STAY | SPA | PLAY | EAT | SHOP | YOGA – Download our ULTIMATE BALI GUIDE for free.