dophert
Published: 26-03-2015 - Last Edited: 24-10-2022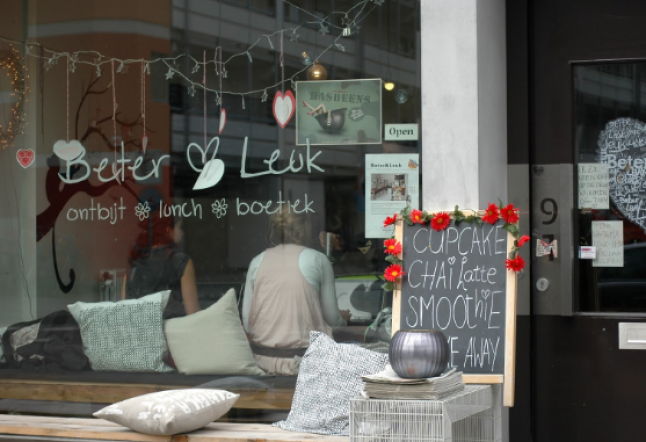 Dophert is Amsterdam's first lunchroom that serves conclusively vegan food. When in Amsterdam, this is absolutely a must-go for all vegans out there. 100% vegan means not having to think twice whether you can order a dish or not, or having to scan the whole menu looking for vegan meals. And even if you're not a vegan this gem is highly recommended, because the food is simply amazing. Besides that, the ambiance is relaxed and low-key. It has kind of a retro feel to it with its bright coloured chairs and eye-catching lamp made out of Mason Jars.
They are open only for breakfast and lunch, and when you have gone once, you'll literally want to try everything on the menu. You can choose from a variety of vegetable milk, such as soy or almond milk for your coffee or chai latte. They serve healthy freshly squeezed juices to outbalance the delicious cakes. You should definitely try the peanutbutter-brownie cake!
For breakfast there's a good selection of soy yogurt with granola, (gluten free) bread with a variety of spreads such as almond or peanut butter and a vegan version of the typical "˜English breakfast'. The lunch menu consists of a variety of yummy meals, such as bread with pumpkin hummus, dates, fried red onion and hazelnuts, a green lentil salad or a club sandwich with tempeh, salad, avocado and homemade mustard mayo; there's really something for everyone.
To make it even better: after 17:00pm you can order a delicious vegan take-out dish! You can either mix your own meal choosing from a variety of ingredients or try the weekly changing meal. All meals cost under €10, – (or $11, -), and everything is homemade, 100% vegetable and biological.
Last but not least, Dophert is so much more than just a lunchroom! Balda and Laura, two young ladies from Amsterdam, run Dophert together and started it as a catering company -which still exists, you can order their cakes too! – They offer workshops for those who are interested in learning how to cook vegan and they sell a variety of eco-friendly, vegan products in the lunchroom and in their web shop as well.
The lunchroom is located in the "˜Spaarndammerbuurt', which is known for its wide range of shops and restaurants.
Read next >> the art of natural high events