derma.e
Published: 07-12-2017 - Last Edited: 05-10-2022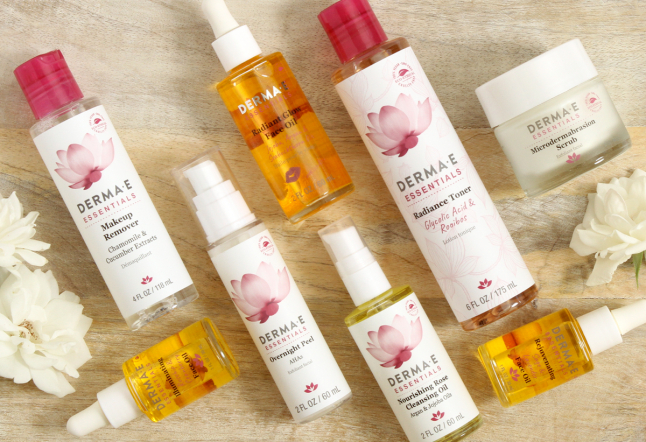 DERMA.E began life as a small company that sold one product–a jar of Vitamin E moisturizing cream–in a small health food store in Southern California. And though they've since introduced numerous skin-care products that can be shipped to anywhere in the U.S., one thing hasn't changed: their belief that the key to healthy skin is the right combination of vitamins, nutrients, and wholesome, all-natural ingredients. DERMA.E's passion for health, wellness, and sustainability means that their products are not only 100% vegan and cruelty-free, but are also free of parabens, artificial colors, gluten, soy, and GMOs–without sacrificing quality ingredients that heal and nourish the skin.
Also Read>>>
Interview of Owners  of Derma E Linda and David
Their Illuminating Rosehip and Cranberry Face Oil is no exception. Made with brightening rosehip, cranberry and organic pumpkin seed oils, this facial oil is designed to hydrate your skin, and give it a luminous, healthy glow. The Rosehip and Cranberry Facial Oil comes in a clear glass jar. The cap doubles as an applicator that makes it easy to squeeze out just a couple of drops, and the oil itself is not at all greasy. Rather, it absorbs easily into the skin without leaving behind a slick, oily residue. It has a sweet, fruity aroma that is luxurious without being overpowering. And yes, skin is noticeably softer after just a couple of applications. Every DERMA.E purchase helps to support the environment, global communities, and organizations such as the World Wildlife Fund, the Paraguay Project, and Vitamin Angels. From ingredients that are ethically sourced straight from nature, this is definitely a product you can feel good about treating your skin too.
dermae.com
You also might like
e&o trading company