de vegetarische traiteur
Published: 06-04-2015 - Last Edited: 09-11-2022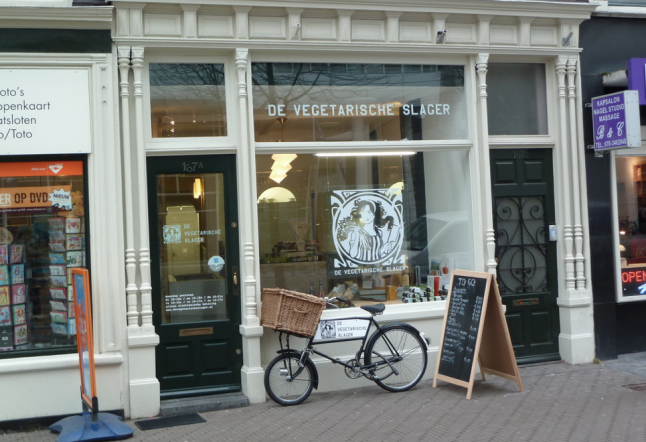 Is there a butcher for those who do not eat meat? Yes, everything's possible in Amsterdam! Bring a visit to the Vegetarische Traiteur/Butcher (or Vegetarian Traiteur/Butcher) and you'll be amazed by how many meatless products they sell! Jaap Korteweg, farmer from origin, is the founder of this unique concept.
How does a farmer become a vegetarian butcher, one may ask? When the swine plague erupted in the Netherlands many people asked him if his cooling houses could store ten thousands of cadavers. He then considered having his own cows in a biological and animal friendly way. This worked quite well until he had to bring his cows to the slaughterhouses. That's when he decided to become a vegetarian. However, he missed the taste of meat so much that he invented the vegetarian butcher, giving people the experience of eating meat while not actually eating meat!
There are a lot of products that are considered to be meat replacements, but often really just don't taste like meat at all. Once you've tried the products of the Vegetarian Butcher, you will be hooked and everything else will definitely taste less like meat than it already did. Together with top chefs, Mr. Korteweg invented the perfect meat replacement with a unique bite and structure.
Definitely worth a try are the 'kipstuckjes' (or "chicken" pieces), they can hardly be distinguished from real chicken. They have been tasted by hard-core meat lovers who didn't taste it wasn't actual meat, if that doesn't stir up your curiosity then what will! Fish lover, but don't want to eat real fish? Try the 'Tonyn'. This is the perfect replacement for a tuna salad and might taste even better than actual tuna, knowing you're not contributing to the depletion of the sea and not loading on mercury either.
The actual butcher traiteur is located on the Rozengracht in Amsterdam's city centre, this is also a place where you can sit, relax and have a meat-free lunch or dinner. Their products can also be found in various ecological supermarkets around Amsterdam, such as the Ekoplaza and Marqt. If you don't have time to stop by their store, check out the web shop and just order your products online. When you're there, check out the recipe page to see a variety of recipes you can make with your newly bought meat replacements.
Read next >> Bulk Heaven at Bob's Red Mill