de bolhoed
Published: 01-05-2015 - Last Edited: 24-10-2022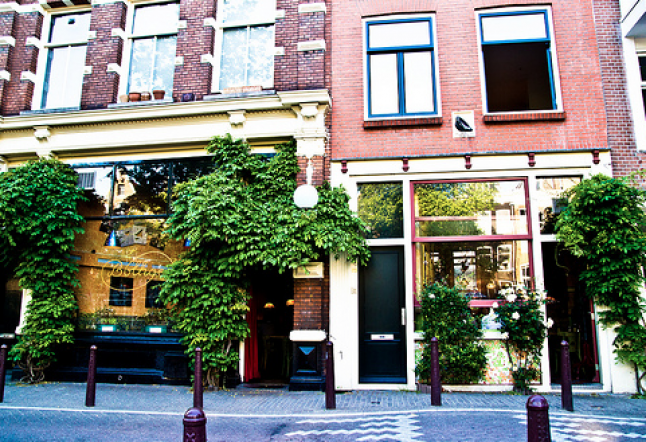 Located on the Prinsengracht, one of Amsterdam's famous canals, this stricly vegetarian restaurant with many vegan options is a must-go for all vegetarian and vegan foodies out there! The atmosphere is informal and cozy, with lots of art on the walls from the gallery next door. The old-skool 50's music playing in the background completes this laid back feeling. On a sunny day you can sit outside and watch the boats sail by in the canals.
I highly recommend the vegan dish of the day! You'll get a big plate full of all kinds of vegan treats. For the salad lovers, there's a great variety of choices and you can try different salads at once by combining a few. Also worth a try are the savoury pies with lots of veggies and a perfect crust topped with sesame seeds. If you're in the mood for soup, order the lentil mizo or warming beetroot. Accompany your meal with fresh mint tea or orange juice.
The portions are generous, but leave you with just enough space to spoil yourself with one of the raw tartes for dessert. For a perfect banana cream cake, this is definetly the place to be.
If you're touring Amsterdam, Anne Frank's house is just around the corner. You can end your day of sight seeing sitting next to the canals, while enjoying a healthy veggie or vegan meal. Make sure to make a reservation if you want to eat here for dinner, as it's a popular place. And don't forget to bring cash, they have a cash only policy!
Read next >> sla