the daily skimm
Published: 16-05-2016 - Last Edited: 15-11-2022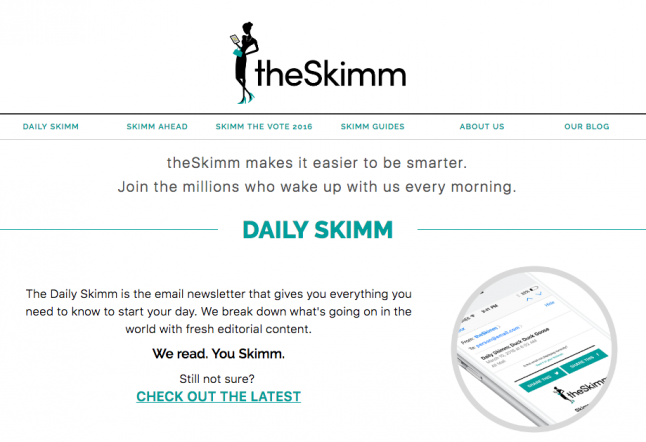 The Daily Skimm is a free email newsletter that sums up the latest news in a succinct email. The creators, Danielle Weinberg and Carly Zakin stay true to the product's motto, "We read. You Skimm," by summarizing the world's biggest news events, accurately and concisely, in a daily email.
It's easy to get bogged down with the happenings of the world. Many use this as a reason to remain uniformed. But there is a happy medium between shutting it all out and feeling inundated by it, and the skimm seems have found just that place. The summary is presented in a way that's as up-beat possible, given the current state of affairs. It's readable and informative, without crushing your spirit before you head out the door. In addition, the emails frequently include a book mention and a wine or food suggestion to balance the overall energy of the email.
This service gives every reason to stay informed. It takes 5 minutes to read the emails, which arrive each weekday morning at 7AM. It allows one to broadly cover all the major events, without going to multiple sites or getting sidetracked by trivial gossip articles that so easily catch our attention. There are links within each email that link to the original article referenced, allowing one to read about the topic in greater detail if desired.
In addition to the Daily Skimm, the website also includes Skimm Guides, Skimm the Vote, and Skimm Ahead. Skimm Guides are cheat sheets for terms that frequently come up in the news. Skimm the Vote, for example, is the run-down on the presidential election. And the newly created Skimm Ahead is a service that updates your electronic calendar with reminders for upcoming events, like buying holiday cards, preparing for a holiday weekend, book and movie premiers, concert ticket sale dates, and more.
Each of their products provide a valuable service and can be found at theskimm.com
On the Itune Store
On the Google PlayStore
Read next >> 21- The Total Lifestyle Cleanse & Nutrition Program