ct amsterdam
Published: 08-04-2023 - Last Edited: 09-04-2023

coffee & coconut
If you are looking for a place to chill out and spoil yourself with a healthy drink or meal, CT Amsterdam or Coffee & Coconuts on the Ceintuurbaan in Amsterdam is the place to be. This place breathes a relax vibe and is perfect for either breakfast lunch and dinner. As it's built in a former cinema, the space is huge with several floors, which are funky decorated.

There are tables for those who brought their laptops to do some work, but there are also beanbags for those who wish to sit back, relax and enjoy a Chococo; a combination of jungle chocolate, coconut water, soy milk, black berry and banana.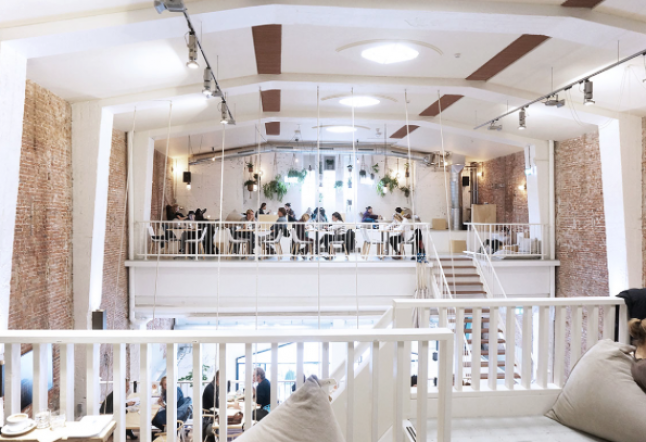 While enjoying an Acai Bowl with palmberry purree, buckini, blue berry, banana and coconut for breakfast, it almost feels like you're on an actual tropical holiday!

The food is fingerlicking good and most of it is home made. It can't get any better than that!

Besides delicous choices for breakfast, C & T's lunch menu is also full of variety and yummy options, such as the Tempeh Burger with lemongrass, chili, shoyu, ginger, mango chutney and cucumber served on a whole wheat burger bun. You should definetly end your meal (whether it's breakfast, lunch or dinner!) with one of the home made sweets.
The Coconut Lime Bread is to die for! @ ct amsterdam
Coffee & Coconuts is not just another ordinary coffee corner, many of their products are of high quality and produced together with local people who love what they brew, bake or shake.

When you find yourself in Amsterdam's city centre, this new place is definitely one of the must-try's.

If you do find yourself in a hurry or prefer to eat at home -which is highly unlikely once you've been inside this cool place- take-out is also an option.

Reach CT Amsterdam on IG
Price range € 1,70 – € 18,50
Great for lunch with a friend, solo healthy food meal.
Open for Breakfast, lunch, dinner and more – Open: Mo – Fri 07:00 – 23:00 Sa – Su 08:00 – 23:00
Best thing about this place ? The coconut lime cake and the bean bags are awesome
Tel: 20.35.41104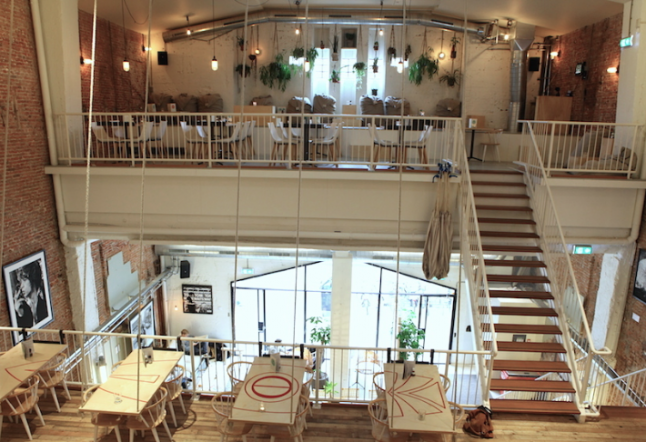 Read next >>> dophert