cru | CLOSED
Published: 03-11-2015 - Last Edited: 08-11-2022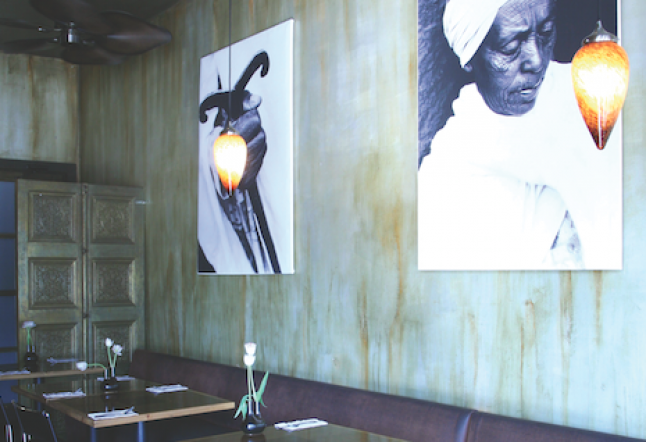 When it comes to making choices about the food you eat, it can be a challenge navigating the vast landscape of lifestyle options to narrow in on the decisions that are right for you. Whether it's buying organic food, cutting meat out of your diet, embracing a vegan lifestyle or going raw, the path to a healthy lifestyle can mean different things to different people. For those who choose a more discerning and dedicated route to optimal health, a raw lifestyle can be extremely rewarding and beneficial. With the increased following and growing presence of raw food restaurants, raw food has become anything but bland. Top raw chefs have been working diligently to break through perceived confines within the raw arena. The ever-evolving creativity and experimentation with the raw food industry have greatly elevated and expanded raw dishes, bringing a range of sweet and spicy to the category.
On the cutting edge of the modern raw movement, Silver Lake's Cru restaurant brings an aggressive offering to the table. Previously know as the Jade Café, Cru changed its name when head chef Rachael Carr took over in the kitchen. Revitalizing the eatery with an adventurous lineup of appetizers, entrees and desserts, Carr doesn't hold back as she boldly brings tastes and inspiration to the menu, a feat she attributes to her own cravings after going raw last year. Dreaming of her own personal Mediterranean, Italian and Thai favorites, Carr made it her mission to bring similar flavors to raw dishes. She jokes that "necessity breeds imagination," and after aggressively working to a find ways to satisfy her cravings in the raw world, she and Cru patrons alike are enjoying the fruits of her labor.
With an eclectic menu that experiments with a flavorful range of vegetables, fruits, nuts and spices, Cru has created a contemporary, delicious menu sure to appeal to the yearnings of any raw food fan. Carr relies less upon nuts than many other raw food restaurants. Maintaining a naturally light quality in her dishes while bringing out the fresh flavors of the vegetables and complementary spices is a top priority in Carr's preparation.
Enjoy a large, beautifully presented appetizer platter with friends before dinner. Platters come complete with a wide array of tastes to whet your palate. A house favorite is the olive flatbread made from sesame, vegetables and served alongside Cru's famous Mediterranean-inspired cheese balls and pomegranate. For your entrée, if you are in the mood for Italian, Cru offers ravioli made from traditional Italian crudo sauce with raw chopped tomatoes, olive oil, garlic, salt, pepper, chives and filled with an herbed cashew cheese. Cru is known for their desserts, so stick around after dinner for a sweet and delicious surprise. The Key lime pie, built upon a crust of fresh pistachios, features a delicious a layer of Key lime custard topped with a layer of coconut cream and finished with a fresh spread of kiwis.
The décor follows suit with the restaurant's natural, exotic cuisine. A small room hosts a handful of diners, creating a warm space to enjoy a meal and a good conversation. Double stem vases decorate each table with fresh sunflowers as low-hung single lights bring a glow to each table. Churning bamboo-leafed fans move from above, complementing large framed black-and-white photographs that profile the wall. For those looking to enjoy a little fresh air with their fresh cuisine, a few speckled tables out front invite diners to enjoy the cool summer night's air.
As the raw movement gains more and more momentum, the category's limitations continue to fall away. Emulating cooked favorites and creating original and hybrid dishes unique to the category, the raw food industry continues to broaden their offerings, putting taste stigmas of the past to rest. Whether to a single dish or a raw lifestyle, Cru's expanding list of flavor-rich, health-friendly dishes has made saying yes to raw the easy choice.
Read next >> moon juice