cosmos
Published: 28-10-2016 - Last Edited: 12-08-2021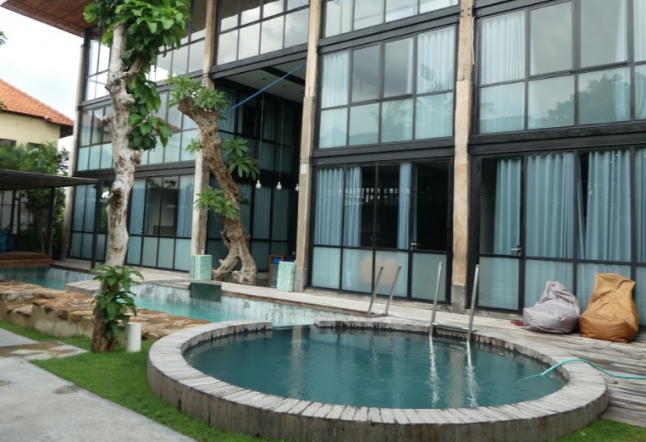 Cosmos, a sort of super trendy yoga retreat in town, located just across the road from Samadi Yoga Studio and down a small street.
Cosmos Oasis provides a collaborative space for an exciting getaway stay in Pererenan. Quality is their passion and they deliver their guests with quality services. If you are here to attend a yoga teacher training program or simply to enjoy a yoga retreat, you will love this place.
With the philosophy to offer yoga classes, good organic cuisine, and a cozy place to run retreats, Cosmos focuses on organic farming solutions – they like to invest in rejuvenation of neighboring farmland to attract local farmers to grow fresh, organic, nutrient-rich food, free of chemicals and pesticides. They like to subside this process and develop local relationships.Their belief is about working all together to find better solution for the human and planet.
With a third-floor yoga studio, the view while you practice is stunning. Cosmos has 8 guestsrooms, a space for trainings and a spa. Another notable service is their 'farm to table kitchen' initiative. Luke, the creative force behind the physical structures and inspirator for the Cosmos philosophy, loves to energize people. With an inventive menu, he wants to create a personal awareness of where our food comes from.
If you are thinking of running your own retreat, The team at Cosmos will be there all along to support you.
For more info on Bali's best spots for the modern yogi STAY | SPA | PLAY | EAT | SHOP | YOGA – Download our ULTIMATE BALI GUIDE for free.