corner tree cafe
Published: 14-09-2015 - Last Edited: 09-11-2022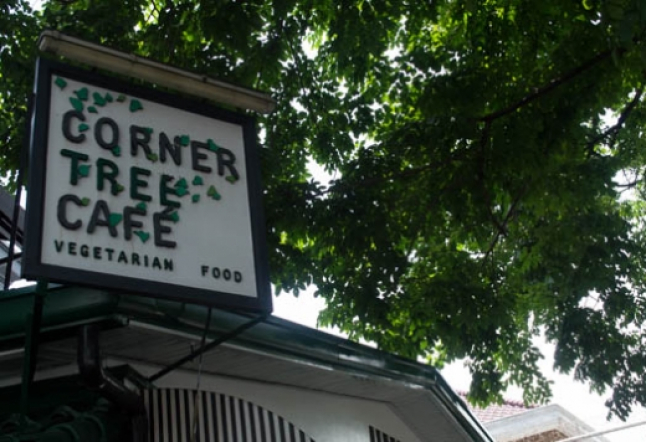 Get ready for a sigh of relief, when you come in and experience one of the few vegetarian restaurants, in Manila. This gem is literally tucked away on a street corner, behind towering trees. It offers a homey ambience, with lots of natural light and relaxing music. There are bursts of joyful orange daisies on the tables and artwork of kitchens from around the world.
The owner of Corner Tree Cafe, Chiqui Mabanta believes, "because of our growing consciousness, we are able to make better choices for our health, the animals, and our planet's well-being. We feel it is the right time and place to contribute to this positive growth." Corner Tree Cafe does just that.
The friendly staff quickly takes my order and serves a glass of kangen alkaline water, supposedly high in antioxidants. First up, is the Corner Tree Starter Plate – an earthy and fragrant blend of spices and seeds served with hummus (chickpeas) and vegetable sticks, on the rocks.
Next is the popular dish, Arroz a la cabana, with a vegan twist of a classic Filipino dish, Kare Kareng Gulay. The Arroz a la Cabana, is a tasty blend of minced tofu, olives, tomatoes, raisins, fried banana, and rice. The flavors work beautifully together, with a subtle explosion of each flavor coming out in every bite. The Kare Kareng Gulay, uses taosi (fermented black beans) instead of the classic shrimp paste bagoong, making it strange at first. However, the organic peanut sauce that comes with totally makes up for it.
If you have room for dessert and love chocolate, be sure to try the rich and flavorful Salted Caramel Torte and dark chocolate. It's delicious and so worth it.
Read next >> bitte coffeehouse & süße griechische kleinigkeiten