coral tree café
Published: 19-04-2011 - Last Edited: 09-10-2022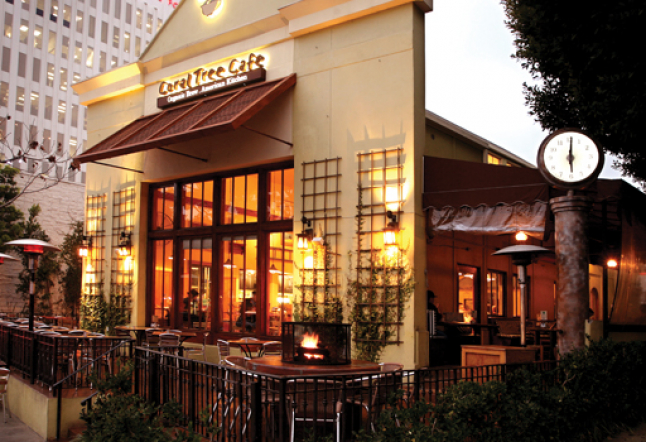 Debunking the myth that mindfully prepared organic food is synonymous with table service and an expensive check, Coral Tree Café provides a first-rate dining experience without pretension. The original restaurant of this now proliferating chain is located in the heart of Brentwood on the coral tree-lined San Vicente Blvd.""the inspiration behind the restaurant's name. The café was conceived by a group of locals who felt their neighborhood was lacking a healthy dining option in a relaxed environment. It opened its doors in 2002 and has since made for a vibrant, lively meeting place for Brentwood locals and visitors. Diners at Coral Tree Café are welcomed by a cozy ambiance, delicious organic menu, and for those looking for that daily dose of karma, a coffee bar equipped with 100% certified organic, fair trade coffee selections.
A casually warm French country décor greets guests as they enter the large dining room that comprises the restaurant. Country-inspired paintings adorn the walls, complementing other home-style memorabilia like flour sacks, pitchforks and roosters that hide in nooks and crannies throughout the dining area. High, vaulted ceilings with large wooden tables are checkered throughout the café, making for a spacious environment. For diners who prefer fresh air, a large patio extends from the restaurant providing plenty of space to grab some sun during the afternoon, or to enjoy dinner under glowing moonlight. Morphing into a romantic, intimate setting, the fire pit on the patio can provide the perfect place for diners to enjoy a glass of wine with their entrée.
Open from 7am to 11pm, Coral Tree Café has an extensive menu sure to satisfy the hungry masses any time of day. The Brentwood eatery employs a quick and painless order-at-the-counter system without sacrificing quality, allowing visitors to enjoy an efficient, yet organically delicious dining experience. A large handwritten chalkboard menu boasts a wide array of coffee, tea and entrée selections for guests' consideration. For breakfast, whether it's the chocolate chip pancakes or one of the several egg scrambles that catches your eye, something on the generous menu is sure to satisfy your heart's (and stomach's) desire. For lunch and dinner, a wide array of simple yet beautifully prepared salad, pasta, panini and entrée options await your discovery. Care for a drink? The café provides a wealth of wine options and a few imported beers. If you happen to discover a new favorite, wine bottles and gift baskets are for sale at the counter.
Food quality is just as important as the quality of relationships with suppliers. Instituting a fair trade-only policy, all coffee served at Coral Tree Café originates from farmers protected by the Fair Trading Act, ensuring an equitable price for foreign labor. In addition, all coffee selections are 100% certified organic, grown without the interference of pesticides or synthetic fertilizers. The café purchases shade-grown beans, which mature under the protective shelter of tree canopies, providing an ideal space for farming as well as a natural habitat for migratory birds and other species.
Whether you're looking for a place to enjoy a fair trade coffee with your morning paper, a quick-and-easy lunch in between meetings or an inexpensive, beautifully prepared dinner in a cozy setting, Coral Tree Café can provide exactly that. Bringing the organic lifestyle to Brentwood without any of the stuffiness, Coral Tree Café is an excellent destination to enjoy a healthy, casual, socially conscious dining experience.
Read next >> niche cafe and bakery