clear café ubud
Published: 13-12-2010 - Last Edited: 24-10-2022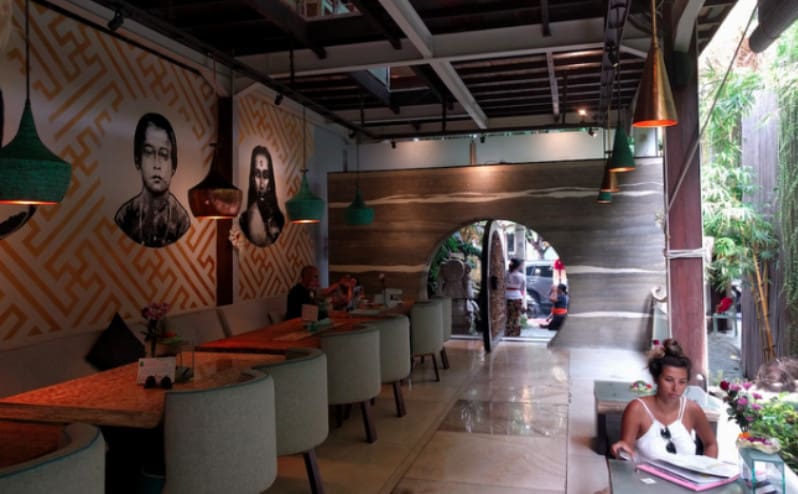 With a small and unpretentious entrance fenced with living bamboos and guarded by welcoming and nicely dressed hostesses, you may be surprised for what awaits you inside Clear Café.
Once you have left your shoes outside (for better comfort and tradition) you are immediately pleased by a palette of elegant colors. Modern interior décor meets traditional Balinese structure in this cafe: Original furniture, simple lines, design surprises for the customers (their bathroom is worth the trip!). Yes, the café emanates modernity and zen.
This intimate, serene, slick, and welcoming atmosphere transforms a person's frown into a smile. As for the extensive and original menu, kuddos to the owner for attempting such diversity. How often can you start your meal with a "Feta & Sundried Tomato Quesadilla" grilled to perfection, then move on to a delicious "Hint of India," a gracefully composed meal consisting of bean salad, creamed spinach, curried potatoes, raita and chapatti (Indian traditional flat bread) with coconut chutney, and then, finally, end your meal with a decadent Chocolate or Strawberry Raw Pie? All this while sipping on a warm cup of chai tea… in Bali?! Until you go to Clear Café, you can only feast like this in your dreams! With a focus on organic and local ingredients when possible, they encourage the conscious eater to continue the expectation for taste and flavor while making healthy food choices.
The service is somehow always fluid (an accomplishment in Bali) with a friendly and attentive staff. The large choice of drinks: Juices, smoothies, teas and nut milks, will quench any cravings for refreshment or comfort.
People come all the way from Seminyak (one hour drive) to get their fix. Clear Café is a must to experience next time you find yourself in Ubud.
For more info on Bali's best spots for the modern yogi STAY | SPA | PLAY | EAT | SHOP | YOGA – Download our ULTIMATE BALI GUIDE for free.
Read next >> nalu bowls – echo beach