cafe organic
Published: 14-12-2016 - Last Edited: 21-12-2021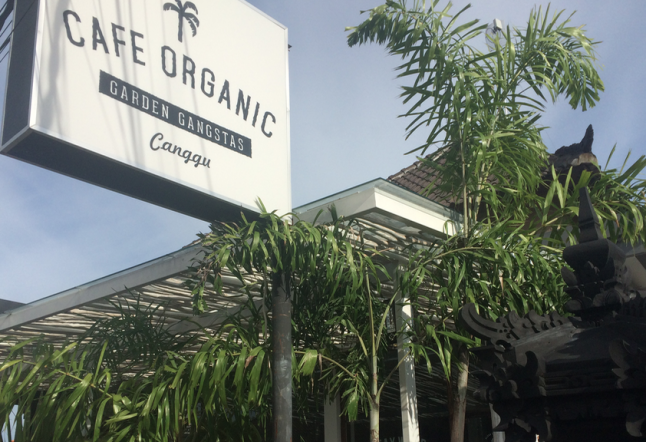 yummy organic food in Seminyak
In Batu Belong you might find yourself caught with countless decisions on where to go for breakfast, lunch or dinner. Vegan vibes, eclectic, New York-esque, Melbourne inspired, wild wild west remakes and hipster hot spots are just some of the variety of food joints located in this trendy Bali stomping ground. One place that always stands out for me is Cafe Organic.
With their "badass" slogan "Garden Gangstas" you might develop a tendency to comb through your Insta-feed waiting to see whose plastered on their wall-o-fame of funky sea turtles, and bright colored fruits and veggies.
Cafe Organic has a soul and an earthy touch that brings all the natural elements Bali has to offer in one space. Owner's Jack and Jenna, a young vibrant couple, truly captured the running theme you might find here is that food should be made with love. At YOGI TIMES, we couldn't agree more. Sitting with Jack, a truly inspiring 20 something, showed us how to kill it as an entrepreneur and go after what you want.
With a super creative array of smoothie bowls, juices, and vegetarian dishes it would be difficult not to order more than one item. Designed to perfection and delicious to stay the least, the smoothie bowls overshadow the savory dishes in terms of taste and presentation. But, if you're a coffee or smoothie criminal then Cafe Organic is your safe house.
For more info on Bali's best spots for the modern yogi STAY | SPA | PLAY | EAT | SHOP | YOGA – Download our ULTIMATE BALI GUIDE for free.