cafe gratitude venice
Published: 28-01-2015 - Last Edited: 08-11-2022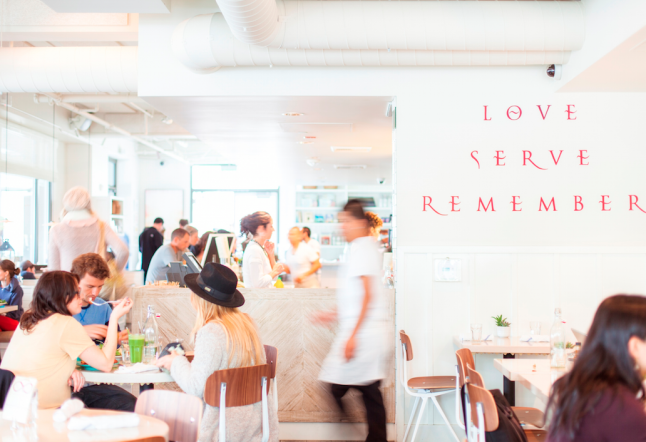 I am COMPLETE, please.
This is how to affirm, order and enjoy food at California's 100% organic and plant based restaurant, CAFÉ GRATITUDE. My waitress kindly responded and returned to my table with a Green Cold Pressed kale, apple, celery, cucumber, lemon, ginger juice repeating: You are COMPLETE.
The menu boasting over 100 dishes including seasonal specials, appetizers, salads, sandwiches, entrees, sides, pressed juices, wellness elixirs, smoothies, coffee and tea couples positive messaging with great, farm fresh, delicious, hearty vegan food. It's hard to complain in a restaurant like this where reminders of "˜love' and "˜gratitude' are all over the place. In fact, the staff's shirts feature a V-cut neck line, representing the "V" in love. LO on one side, E on the other.
With several locations throughout California, another in Kansas City and more on the way, CAFÉ GRATITUDE serves up a multi-dimensional experience that goes beyond "food." I'd say it could count as a therapy session, taking us to the core of food, life and ultimately what it's all about"¦love!
The conceptually-focused restaurant started eleven years ago with a "˜gratitude' inspired board game and snacks by California farm-based owners' Matthew and Terces Engelhart. This led to a bustling 7-day a week breakfast, lunch and dinner enterprise that serves approximately 800 patrons daily, in one location alone.
To kick off the work day, staff members begin with a "˜clearing' where they are given an opportunity to release any emotional issues that might accidentally impact the day. Thereafter they are provided with a question/mantra for the day serving as a point of discussion with patrons. For example, my waiter brought me the menu stating "What do you cherish?"
The daily mantra is written on the black board next to the daily special:
Welcome to Café Gratitude:
What do you cherish?
How about our Adventurous (description of vegan soup of the day)
My mind, body, spirit culinary experience continued as I began reviewing the huge menu featuring delicious and affirmative dishes such as I AM DYNAMIC, consisting of yam cauliflower samosas with coconut mint chutney and sweet tamarind sauce. Next I affirmed I AM CELEBRATING, with two fresh collard spring rolls with daikon and wakame filling in a thai almond dipping sauce. YO SOY FELIZ with portobello mushroom tostadas featuring black bean puree, coconut bacon, salsa verde and avocado on a crispy tortilla. I AM PURE included a marinated kale salad with green onions, teriyaki almonds and garlic tahini dressing. I AM FRUITFUL was a delicious Vitamin C infused smoothie of seasonal fruit, camu-camu, dates and amla berry. And by dessert, I wanted to stand up and scream I AM ADORING, which meant I wanted their signature raw almond biscuit, coconut cashew cream, espresso, cacao tiramisu!
Ryland Englehart, CIO, (chief inspirational officer) is present on hand sharing love, food and hugs with patrons in the large, 140- seating capacity ambiance that includes inspirational art, a boutique, bar, indoor and outdoor seating. Parking is validated for the first 90 minutes.
Read next >> millennium restaurant's eric tucker