les enfants du paradis
Published: 14-03-2012 - Last Edited: 12-08-2021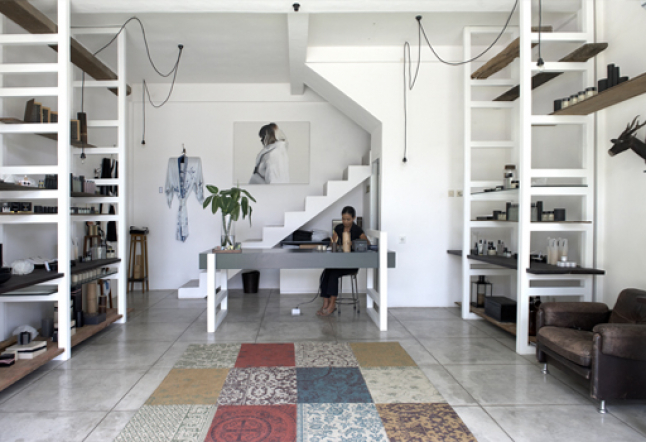 If you tend to indulge in skin care made from natural and local ingredients, Les Enfants du Paradis will be your new favorite cosmetic shop in Bali.
Using only the highest quality botanical ingredients and essential oils, Enfants Paradis products contain a high concentration of antioxidant extracts sourced from South East Asia and around the world, and presents itself as a range of botanical products that is created specifically to nurture and inspire creative travelers.
The creator behind Enfants Paradis, artist Kirsty Ludbrook, moved to Bali 6 years ago. She quickly discovered the products she was then using did not suit the tropical climate. Inspired by the abundance of natural holistic treatments available in Bali — one of the world's most reknowned spa destinations — she began experimenting with her own botanical mixes. Propelled by the curiosity typical of an artist, she began delving deeper, taking a journey of discovery into the world of wellbeing. Teaming up with some of the archipelago's most experienced and talented formulators, she launched her first range in 2011, the Paradis Hydration Botanical skincare series.

She soon discovered that others like her were enticed by the idea of being able to customise their own product. In response to this need, Enfants Paradis will launch in April 2012 their personal spa / wellbeing range. This range of face and body polishes, clay masks and mineral bath salts incorporates rice and bamboo extracts and volcanic minerals of Bali. Each product is formulated to be used on its own or in combination with others to achieve personalised rituals.
With a focus on achieving radiance – both inside and out – Enfants Paradis is formulated to inspire the soul through the senses, with quick absorption to immediately enhance the skin's radiance and leave a silky refreshing feel.
Since we research, review, and test cosmetics in all sort of ranges, we can say with confidence that Enfants Paradis has a promising future!
For more info on Bali's best spots for the modern yogi STAY | SPA | PLAY | EAT | SHOP | YOGA – Download our ULTIMATE BALI GUIDE for free.
* Enfants Paradis skincare and home spa products are currently available at Les Enfants du Paradis Bali Store and in selected boutiques and spas around Bali, or on their online store.