flying high above the ozarks with branson zipline canopy tours
Published: 27-05-2015 - Last Edited: 09-11-2022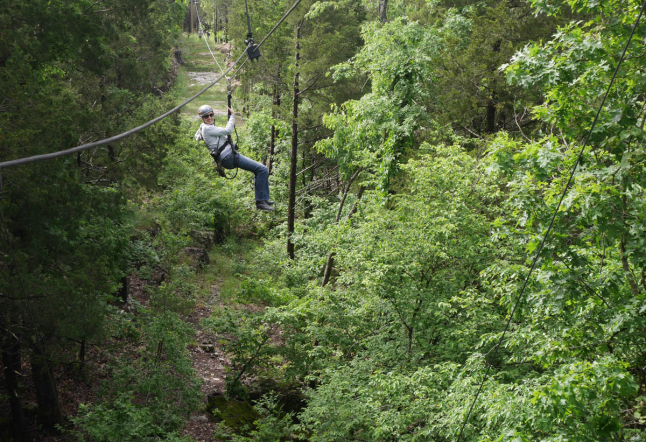 There's something a little nerve-wracking about stepping off a high platform and out into the open air, even if you are harnessed up the wazoo. This is what makes ziplining an adventure activity.
Branson, Missouri, the entertainment capital of the Ozarks, has half a dozen ziplining courses. But the Branson Zipline Canopy Tours at Wolfe Creek Preserve are eco-ziplines. Since opening in May 2010, more than 150,000 adventurers have sailed over 33 species of trees, including oak, walnut, cedar and white birch. And unlike most ziplining courses, this one has a forest management plan, ensuring that the surrounding nature is undamaged and allowing visitors to experience the preserve in a completely undisturbed setting.
Wolfe Creek Preserve is named for Isaac Wolfe, who was born in Austria in the 1830s. After adventuring out to the California Gold Rush, rumors of silver lured him to Missouri. There he fell in love with a local girl and settled down in what is today the zipline site. Wolfe didn't find much silver, but the land was rich in armadillos, deer, turtles, skunks, and wild turkeys. "I'm a big outdoorsy person," said ziplining guide Shirley Weingartner, who watches out for wildlife during lulls in work.
From March through December, visitors can choose between several ziplining packages. The Flying Prospector features four ziplines and seven sky bridges, and takes about an hour and a half to complete. The most daring folks will opt for the Blue Streak Fast Line and Free Fall Xpress, which includes a 100-foot freefall. Don't worry, everybody gears up in a hardhat and harness. Those who prefer staying on solid ground can take a photo safari walking tour instead. Ziplining prices range from $45 to $130, depending on the package.
This is an easy course for newbie zipliners. The gravity braking system means you don't have to do anything but glide across – your guides take care of everything else. Each guide must undergo more than 40 hours of training and pass a skills and written test to get accredited by the Association for Challenge Course Technologies. Jason Thompson, a new guide just hired this season, said the skills test alone took 10 hours. "It was awesome," he said. "We were outside all day."
Visitors will love spending time outside at the Wolfe Creek Preserve, flying over Missouri's lush greenery and experiencing nature from a different perspective.
Read next >> a travel guide to chiang mai