branch yoga & wellness
Published: 10-02-2015 - Last Edited: 03-11-2022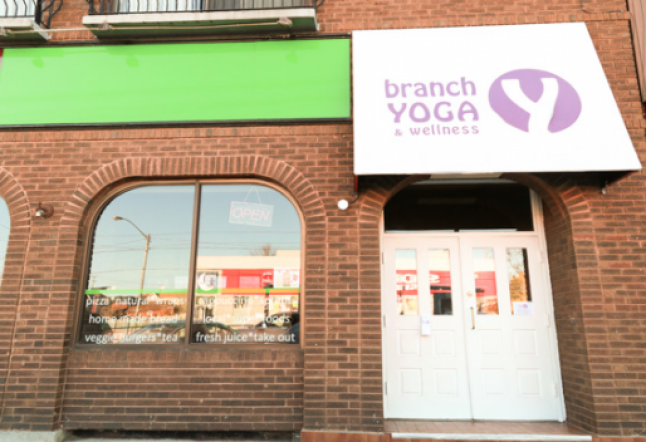 A warm and welcoming studio full of light, Branch Yoga & Wellness is a safe place to nourish your soul. This studio is an energy vortex, and you feel the high vibrations as soon as you step in the door. This all started when the abundant flow and synchronicity of the Universe took over and within 62 days, Branch Yoga & Wellness went from a simple idea to being born on September 2nd 2014.
Marlene Sammy, Karey Emmett and Bart Murphy, owners of Branch Yoga & Wellness, are genuine beings who provide a safe and fun environment to be challenged, guided, and assisted in your personal practice. Their desire is to create a safeaccessi
space for all students from all walks of life to "˜branch out' and live their most fulfilling and authentic life.
The 3 of them create the ultimate trio that cannot be matched! Check out Marlene's arial yoga class, Karey's vinyasa flow class, and DJ Bart spinning live every Thursday night for a vinyl vinyasa class. In addition, Branch Yoga & Wellness have unique offerings from healing Reiki Restorative and meditation to Thai Yoga Union: Champagne and Chocolate, as well as private services in Wellness Coaching and Thai Massage.
The studio has an easy accessible parking lot at the front of the building and is equipped with mats, bolsters, blocks, straps, aerial silks, and more. There are changerooms provided on site and a seperate wellness room for massages and life coaching. The stunning hardwood floor, spacious practice room, and relaxing atmosphere create the perfect sacred space to let all your worries melt away.
Just one class at Branch Yoga & Wellness and you will be hooked! The contagious energy and positive vibes will have you craving for more. All new yogis to the studio are welcome to try 30 days of unlimited yoga for $40.
Read next >> studio blue yoga & fitness