top 5 vegan eateries in east london
Published: 12-10-2017 - Last Edited: 16-11-2022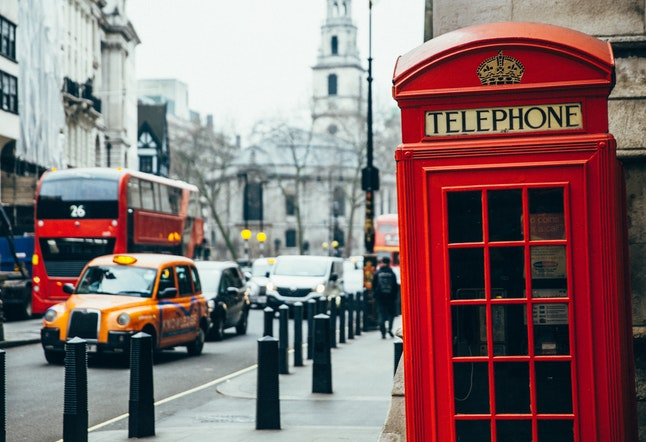 COOKDAILY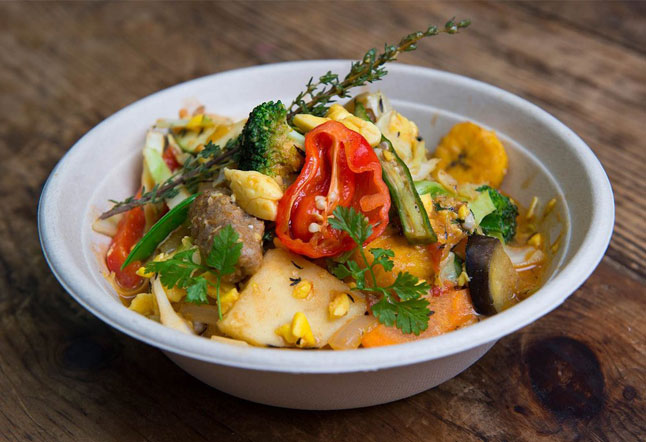 Vegetable-rich, packed with flavour and simply delicious are thoughts that come to mind when experiencing the menu of this Shoreditch staple in the vegan scene. Created and run by chef King Cook, the eatery's ethos is just as cool as it's founder's name- #nobloodnobones. It's vegan eating which is simple yet healthy, moreish and lightning fast. The menu is vast with classics such as Chickn and Mushroom Pie and a full english breakfast, but also Jerk Chickn, Mummy's Green Curry and House Pad Thai; honouring Cook's Laotian heritage. No detail has been spared, with cardboard and wooden recycled containers and utensils making the packaging just as ecological as your meal. I would highly recommend the Jungle Curry- a rich, coconutty sauce, with heaps of fresh, crunchy veggies over sprouted brown rice. With most dishes you also have a choice of main ingredients such as just veggies, puff tofu, chickn, prauns or duk (letter omissions, of course, indicating them containing no elements of their animal namesakes.) Nutrition has absolutely not been forsaken for taste or for the vegan junk food vibe and you can tell they pride themselves on using the freshest of vegetables and seasonings. Recently featured in both The Guardian and on BBC's Saturday Kitchen, King Cook has also gained quite the following on the London grime scene with support from JME, Skepta and Emeli Sandé to name a few; he continually challenges preconceptions of veganism being white, middle class and elitist.
CookDaily
's recommended dish is their High Grade, a smoky sweet and sour veggie stir-fry with hemp oil, and I can agree that it is, in their honest words, 'pengaleng.'
CookDaily can be found in Unit 55, Boxpark 2-10 Bethnal Green Road, E1 6GY and Boxpark Croydon – 07498563168 – cookdaily.co.uk
FED BY WATER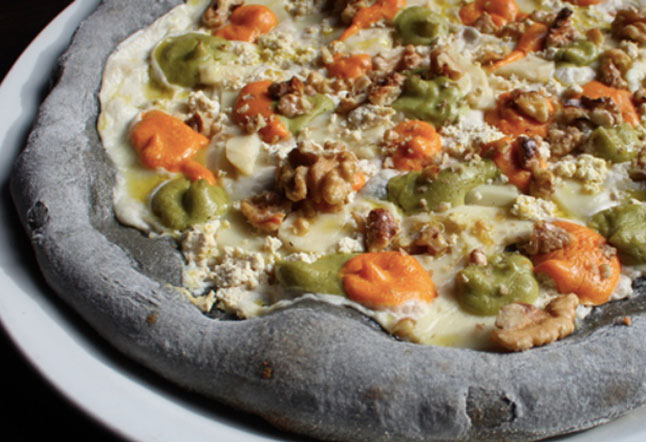 This Dalston-based Italian restaurant is packed every day of the week and for very good reason- it is affordable and absolutely scrumptious. Their aim is fulfilling a 'holistic ethos towards gastronomy, that includes environmental sustainability' and ensuring to maintain as low a carbon footprint as possible. Fed by Water boasts an extensive menu of pasta, pizzas, risottos, calzones and sharing platters. They use their homemade cashew and soy cheeses for their pizzas and cheese boards which are perfect to begin any meal. In spite of it being a rather diminutively-sized space, sheer artistry is performed in the way of cocktails at their bar; fresh fruit and botanicals aplenty. The décor is dark and formal but not fancy, so there's no risk of coming under-dressed, and the food is left to do all the talking. They are famed for their pizzas including toppings such as pepperoni, 'salsicciotto' marinated tofu, Jerusalem artichoke, mozzarella and ricotta cheese. You also can opt for a black dough base which is enriched with activated charcoal, and the Stella pizza includes a donation to a local women's specialist health charity. The star of the show has to be their Carbonara which is as rich, creamy, salty and smoky as its precursor. The crispy seitan is a doppelganger for pancetta and sure to astound any carnist diner. You can complete your meal with one of their indulgent desserts; I would highly recommend the aptly named Tiramisex (a tryst of almonds, coffee, and cashew cream) for a truly climactic finish to your meal.
Fed By Water is a mere stone's throw from Dalston Kingsland, number 64 on the High Street, E8 2JT. Also available through their own delivery service and via JustEat – +44 20 7249 6242 – fedbywater.co.uk
VANILLA BLACK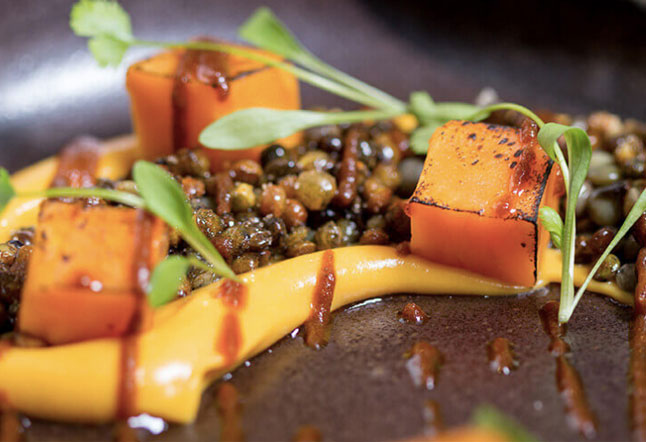 This incredibly stylish and pared-down fine-dining restaurant is about as sophisticated as they come on the veggie/vegan scene. Perfect for a special occasion, you can choose from their set lunch, à la carte or 5 course tasting menus- all available paired with some premium vegan wines and champagne. Whilst having a very elegant ambiance,
Vanilla Black
is certainly not dull in its cuisine, offering an adventurous array including fried porridge and sticky rice with picked cucumber ketchup. I would personally highly recommend their shiitake and jumbo couscous dish which is somewhat of a culinary masterpiece including umami jellies and great, meaty rounds of king oyster mushroom which famously resemble scallops. A vast array of desserts such as licorice pannacotta and toasted rice mousse are also available. The flavours here are creative and complex, a great place for a birthday, graduation or date night if you're willing to splash a bit of cash. You're provided with an attentive service and begin each course with detailed descriptions of each dish; ideal for any plant-based foodie. The owner's only caveat, which perfectly demonstrates their commitment to the restaurant's fine-dining approach is, 'apologies in advance, no pasta bake or vegetable curry.' Fancy, fine and flavourful.
Vanilla Black is located in the heart of the City at Took's Court, EC4A 1LB – +44 20 7242 2622 – vanillablack.co.uk
WHAT THE PITTA!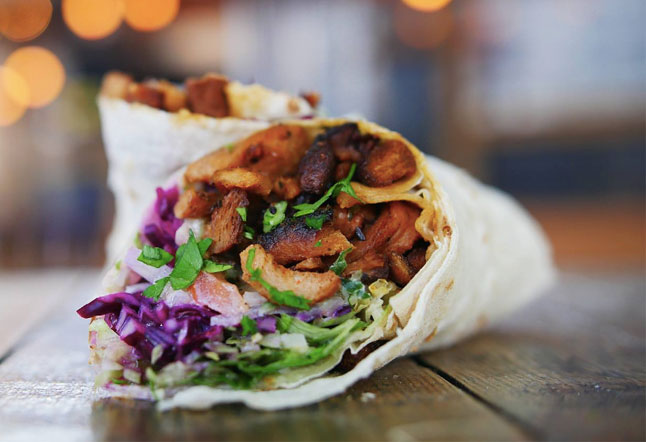 Originated in Shoreditch's popular street-food haunt The Pump, this vegan kebab shop has now popped across the road and found a permanent home at Boxpark. The duo that founded it popped across to Germany to export a family recipe for authentic Turkish vegan doner their uncle sells there to great acclaim, and thus was born
What the Pitta
! They have gained so much hype so quickly through the fast emergence of their East End stall and touring many popular food festivals that they were even recently featured on the BBC's Newsnight. The doner meat (soy protein) is crispy, chewy, smoky, meaty and captures all that is simultaneously wonderful and sinful about a kebab shop. You can choose from a wrap, a Lahmacun (Turkish pizza), or the doner generously sprinkled atop seasoned fries or couscous. All, of course, accompanied with the kebab favourites of fresh tomatoes, iceberg lettuce, jumbo jalapeños, grilled onions and tangy pickled red cabbage. They also have an extensive sauce selection of tzatziki, hummus, mayonnaise, chili and burger sauce. Complete your Byzantine voyage with their syrupy-sweet, almond Baklava. A vegan dream-come-true for an end of the week indulgence washed down with a couple of pints. Take any friend and watch as their eyes and tongue fall out of their face!
Find What the Pitta! in the East at 2-10 Bethnal Green Road, E1 6GY also at Boxpark Croydon and via Deliveroo and Ubereats – whatthepitta.com
TEMPLE OF HACKNEY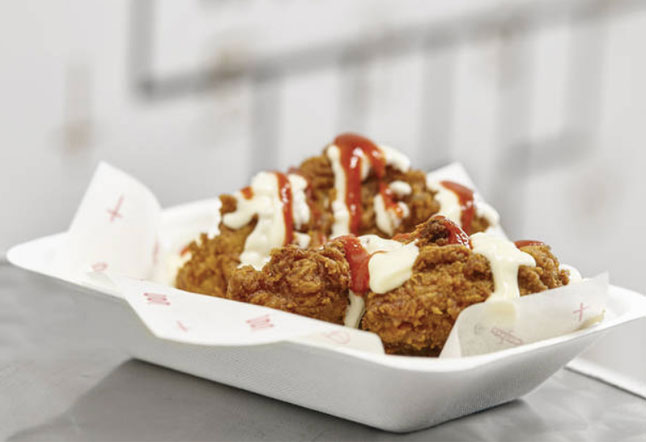 Heralded as London's first vegan chicken shop, the formerly named
Temple of Seitan
is perhaps both a UK and indeed, Europe-first. With great queues coming out of their 7-day-a-week shop, it's no surprise that vegan and omnivore Londoners alike are itching to get a taste of their signature wings. Yes, they have a retro diner menu of hot wings, chicken burgers and spicy wraps, mac, and cheese, popcorn bites and coleslaw all available with ranch dressing, pepper mayo, barbecue and buffalo sauce. If this menu is ringing any bells, founder Rebecca McGuinness was indeed a KFC employee before 'veganising' Colonel Sanders' beloved recipe. The key ingredient behind the chicken and the crispy bacon sprinkled atop their mac and cheese is seitan, or wheat gluten, which creates the tell-tale meaty chewiness. Never without a line of salivating fans, you can also find their traveling stall at many of the most popular street-food markets across the capital. Well and truly at the forefront of the vegan junk food revolution,
Temple of Hackney
's flavour-packed, authentic taste masterfully debunks any preconceptions of vegan food being bland, rabbity or only comprised of salads.
Temple of Hackney is open daily from midday at 10 Morning Lane, E9 6SA – +44 20 7627 1328 – facebook.com/templeofseitan
CARNEVALE
Carnevale
 in the Barbican/Moorgate area, a family-run, rustic Sicilian/Middle Eastern vegetarian restaurant (many vegan options). This relatively unknown and unassuming little joint is owned by the sweetest of people and you truly feel like you've escaped the metropolis for a rural holiday when dining. I highly recommend the homemade sausage, mash, and red wine gravy.
135 Whitecross Street, EC1Y 8JL
VEGAN MARKETS
The Hackney Downs Market
 is hosted every Saturday in collaboration with blogger @fatgayvegan and Eat Work Art- it's is packed with an ever-changing array of London's best-loved street-food stalls and retailers.
Amhurst Terrace E8 2BT
Brick Lane's Sunday
food market under the Truman Brewery is more replete than ever before with vegan stalls such as Ethiopian, Brazilian and pancakes! On the same eponymous Lane there is also a Vegan Night Market hosted every Thursday evening from 5-10pm.
152c Brick Lane, E1 6RU
Read next >>
Edo & Jo