barre 2 barre
Published: 24-06-2015 - Last Edited: 30-10-2022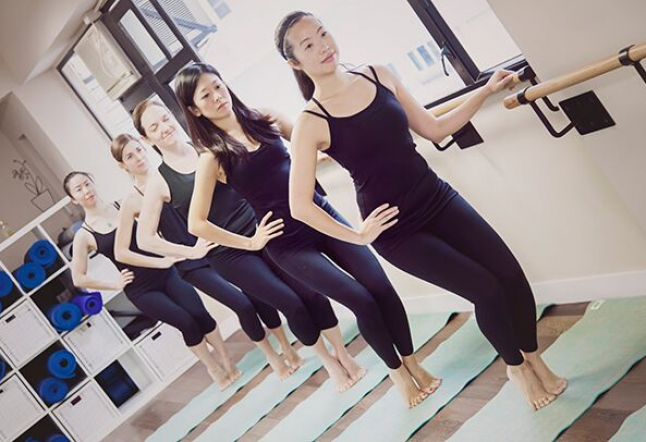 I first heard about Barre from a guy friend who lives in Montreal and is a rather broad-shouldered ex hockey player. He described this new type of workout as very intense and mentioned that it resembled ballet (which made me laugh as I pictured him as a ballerina). My curiosity wasn't satisfied until I went online and looked it up. I came across BarreAmped website which made me want to try this revolutionary method.
Founded by Suzanne Bowen, who has created her very own technique that combines dance (modern and classical), Pilates, as well as active and relaxation stretching. On her website Suzanne Bowen describes the barre as 'an intensive body shaping experience designed to produce reliable results, no matter the client. With the precision-oriented technique focuses mainly on small, isolated movements within deeply held and challenging postures.' So let's sump it up: combines strength training and cardio and is proven to increase metabolism, improve posture, burn fat, and lengthen tight muscles, increased flexibility and reduced stress. Who wouldn't want that?

I went on a search for a place in Hong Kong where I could try this miraculous technique and I found one. A modern boutique studio Barre 2 Barre located in Central, just by the escalators was founded by Karen Lim and Mylène Mackay in 2012. Dedicated to barre inspired lifestyle, they offer weekly group classes and private training sessions in barre, yoga and Pilates Mat.
It may seem like a ballet studio but don't be tricked into thinking it is a piece of cake kind of excercise. With an upbeat music in the background, after a quick warm up we were in sweat. We started off with a sequence of upper-body exercises, which include free weights, push-ups, planks and other moves to target all the muscles: biceps, triceps, chest, and back muscles, followed by the ballet barre. By using my own body and with a very small range of movement I could quickly feel the burn. I tired 3 classes: Mixed, Boot camp and Intermediate and liked them all however the boot camp version had the perfect ratio of cardio and strength. The two instructiors Karen and Mylène are lovely and will give you very precise instruction about your form, breathing and the pace. It was a fun way of spicing up my usual workout routine. Bonus: it's perfect for women who are short on time.
Read next >> pure apparel