bali vegan festival 2017
Published: 12-10-2017 - Last Edited: 15-11-2022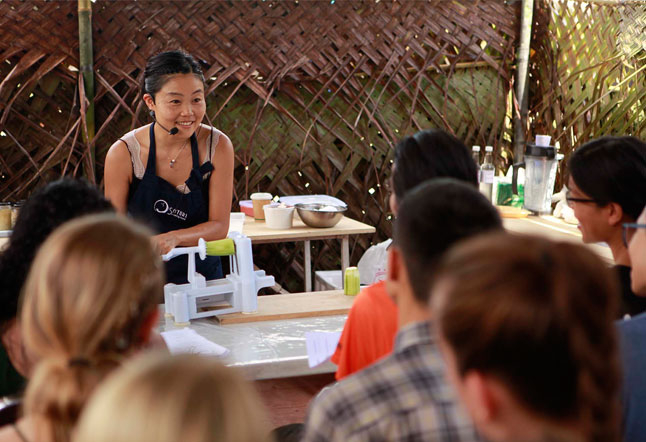 YOGI TIMES Editor Christina attended the Ubud Bali Vegan Festival and enjoyed not only the food- but the community and talks offered. Read about the festival here…
The Bali Vegan Festival is a yearly event started in 2015 hosted by Down to Earth company, showcasing several local vegan companies who join together to create a vibrant event with the aim to increase consciousness towards the planet, healthy living, and the animals. It is exciting to connect with others who want to make an impact on our world- from the choices on our plates.
Along with colourful array of delicious food, is a variety of events, talks, and activities for the whole family. And whether you are a veteran vegan, a new vegan, or a curious foodie- you find something.
The festival is divided between several sites depending on your budget, which is a fun adventure on its own. Travelling to the different sites, you meander through the back streets of Ubud lined with eclectic boutiques.
A few blocks away from the main section is the free section of the festival held in a large soccer field- with playful music and booths of vegan food, juices, and products. It is a good place to get a taste into veganism! Chatting with booth owners, it was clear how were proud of their products.
Activities are run like vegan cooking, painting, and concerts- it is evidently a kid-friendly area.
For more invested vegans, they had talks on a multitude of topics; healthy vegan cooking classes, conscious relationships, healthy living, inspiring stories and just overall happy living- you easily can spend all day attending them and leave with a healthier and more positive mindset.
Talks are held at the main location, a vegan supermarket and vegan movie theatre, a cafe called Paradiso. It is pumping with live music and pods of in-depth conversations, all with smiles on their faces.
Volunteers are happy and helpful- chatting away with attendees and organizing speakers. You could hardly tell that the rain changed the schedule -it is well organized!
One of the speakers was Fully Raw Kristina. A YouTube/ Instagram Star with over a million followers. Personally, she is an inspiration for me!
The talks are held upstairs Paradiso to what would be described as a hipster theatre- complete with pallet couches and a stage.
Kristina spoke on emotional eating and cleansing. It was powerful and I got in on the action with some questions.
Inspired by Kristina, I had a raw meal from Paradiso. Raw fettuccine- zucchini noodles with cashew spinach pesto….sound glorious? Well, it was!
In the afternoon Kristina hosted a women's circle- not what you would expect at a vegan festival!
About 25 women, and 1 brave man- got vulnerable and tears flowed. We felt connected, renewed and beautiful sisterhood was created.
There are so many other talks to attend and- but many spend time talking to other attendees in vibrant conversations with incredible people all passionate about making the world a better place.
Speaking with the organizer of the event, Liat Solomon and owner of several vegan-friendly companies in Bali, about why she started the event, she told me to create a more conscious community and help the planet that is being harmed by farm animals.
As a fairly new vegan, learning to travel and stay vegan has been quite the learning curve. Add a new language into the equation and sometimes I wonder if the food I'm eating is really vegan.
Luckily, Bali is a fairly easy island to find some vegan-friendly dishes- and easier in the city of Ubud, which is pretty famous for its vegan restaurants and cafes. Still, sometimes it feels like a lonely journey.
At the end of the day- I felt so alive and ready to continue my journey as a vegan.
If you are a vegan or just a person who loves our planet- attending this festival to taste the delicious food and join the movement is worth a flight to Ubud!
For more info on Bali's best spots for the modern yogi STAY | SPA | PLAY | EAT | SHOP | YOGA – Download our ULTIMATE BALI GUIDE for free.
Read next >> bali regreen program – a bali spirit festival outreach