bali spirit festival 2014 for families
Published: 22-04-2014 - Last Edited: 24-10-2022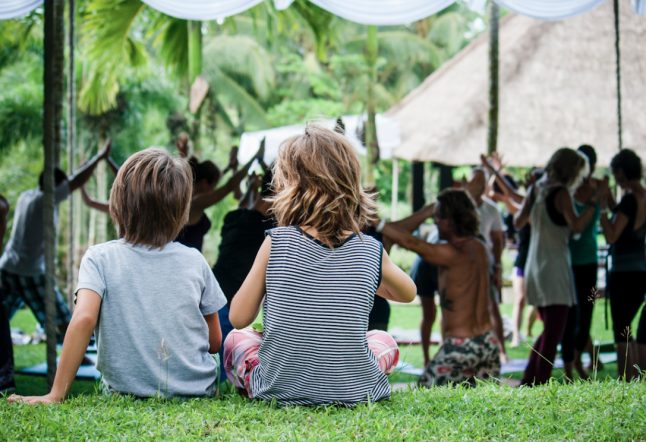 Bali Spirit Festival is a heaven for free spirited families. It is a forum for parents and their children to meet again on the same level. It is difficult to partake in this festival without remembering how to play, which makes for a fun-filled weekend retreat of reconnecting with our most precious. There is something being offered at every turn for all members of the family; everyone is catered for. If parents need some time to recuperate, there is even a drop-off babysitting service at both the day and night events.
The Bali Spirit Festival is an experience of a lifetime. Memories are created here for both adults and children. Not only are children entertained at this event, but they can also become aware of the local culture and the concept of service to the local community in need. Sunday, Hari Cinta Keluarga (We Love Family Day), is paid for by donation for the local community, making it the busiest day of all. There is a plethora of yayasans alerting us not only to the work of Ayo Kita Bicara, but also to inspire us to change our relationships with each other and the environment. A wonderful example of this was the Bye Bye Plastic Bags Bali campaign founded by the lovely Isabel and Melati, two young teenagers from Green School. They and their fellow comrades have been trailing the island of Bali with the aim of gathering one million signatures in support of their campaign.
When the family needs refueling, there are so many yummy, healthy food options – even the fussy eaters are catered for. There is a lovely shaded picnic area by a small stage with world music playing all day long. If the kids have had their fill of yoga, capoeira, dancing, hula hooping, there is always the swimming pool facing the jungle for a chill out.
If you are considering an amazing, inspiring family break, look no further than the next Bali Spirit Festival: March 31- April 5th 2015.
For more info on Bali's best spots for the modern yogi STAY | SPA | PLAY | EAT | SHOP | YOGA – Download our ULTIMATE BALI GUIDE for free.
Read next >> bali spirit festival 2015