bali spirit festival 2013
Published: 15-04-2013 - Last Edited: 15-11-2022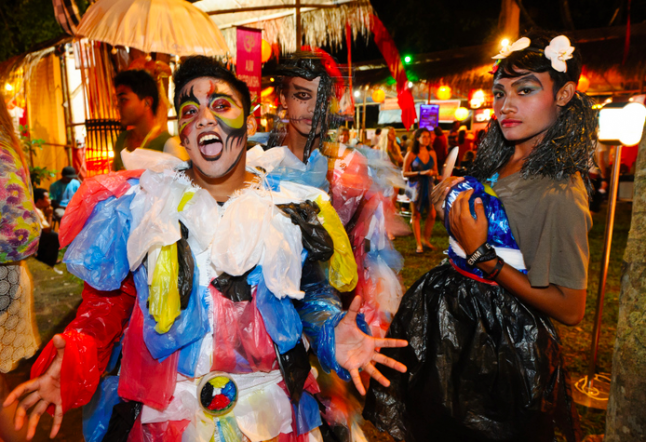 From the outside, the Bali Spirit Festival might seem like one big hippie festival straight out of the 70s where people are united by music and dance free hugging everyone they meet.
Once immersed, the story changes however. Sure, there is music, dancing and hugging but peel away the layers and the true essence of the festival is revealed. This festival now in its sixth year, draws an international crowd of spirited, conscious, yoga-loving, bliss seeking, individuals, all under one sky (those of which were fortunately blue in colour for the entire 5 days.) With Bali providing a heavenly backdrop, it is no wonder that the festival continues to grow in popularity.
And NO, contrary to popular belief, it is not just for women and hippies practicing yoga in Bali! Let's take a look at the demographics..
Solo traveler? Perfect ! Follow your bliss & your own schedule and meet likeminded folk at the same time on the mat, on the turf, in the pool or on the dancefloor.
Singles? Learn how to massage your partner with Gwyn Williams in the form of ZenThai Shiatsu, attend a Yoga of Love workshop, As above.
Professionals? Aside from the presenters and performers, be surprised by the number of Type A international corporate escapees scurrying around juggling timetable clashes in search of peace and tranquility.
Men? Try acroyoga, power YANG classes with Simon Park, African Drumming, admire Kecak performers, try Surf Yoga or Yoga to Live Music with Steve Gold's acoustic guitar sets
Women? An all-you-can-eat-buffet of yoga, music and dance feeding body, mind and soul!
Misfits? Or do we mean enlightened? Depends on one's perspective and besides according to Jamie Catto, we are all crazy anyway. Next…
Retirees? Attend a nutrition workshop and be inspired by a 70 year old yogini fasting expert or 'bend it like Beckham' with 70-going-on-40 year old life long yoga devotees. Yes yoga IS anti-ageing!
Families? Come along on Sunday to the Family Day and experience Family Hoop Jam, Balinese Dance for kids, Sunday dance, Story Telling, Circus tricks, Drumming..
The food and drinks menu holds a valuable lesson for catering companies proving that healthy food really can be produced and executed en masse. No hot dogs, Coca Cola or sausage rolls in sight!! Instead, enjoy mouth-watering local cuisine from Ubud's top cafes. A dream for healthy foodies with options galore: raw, vegetarian, vegan, organic…take your pick! Be sure to grab your fresh coconut water before the lunch time rush or you will be left with only the freshest tropical fruit juices! Ohh…
Not forgetting the night performances. From traditional dance to chanting to reggae, to electronica to indigenous folk, every genre was covered. Freshly showered, stunning masterpieces emerge as the sun goes down and it's time for a little bit more self expression, this time on the dancefloor. BSF goers must be THE perfect audience, ready to explode at the sound of a guitar chord.
The way the festival goers integrated into the local community is beautiful to witness. Coordinating transport, parking, side stalls, food stalls and local Balinese performance, the local community form a critical part in the festivities and were duly respected. Ubud really is the ultimate host for a celebration of this kind. Where else in the world could you host an after party at your house for complete strangers? With as much as a whisper about an after party venue, a steady flow of BSFers descend as guests at an anonymous multi-levelled home, swaying to the DJ beats and mingling over rosella tea! Coming from a country of alcohol worshippers, the concept alone of inviting 500+ strangers into a residential home at 11pm in the evening brings on an anxiety attack!
From the atmosphere to the organisation to the participants to the calibre of the presenters to the evening performances to the yoga talent .. it can only be summed up in one word, a word that was possibly the most frequently heard description over the duration of the festival (besides inhale and exhale of course!!), AAMMAAZZIINNGG.
For more info on Bali's best spots, including STAY | SPA | PLAY | EAT | SHOP | YOGA – Download THE ULTIMATE BALI GUIDE 2018 for free here: http://bit.ly/BALIGUIDE2018
Book your personalised healthy holiday with Janelle Maree – healthytravelsbali.com
Read next >> vedic meditation course