bali bowls and smoothies
Published: 27-11-2017 - Last Edited: 15-11-2022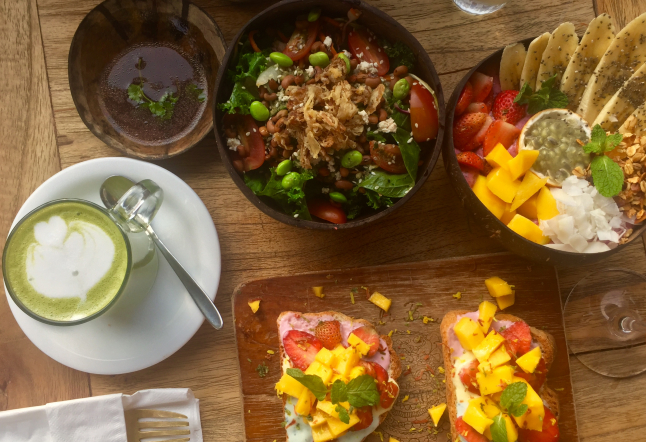 Bali is a hot spot for healthy and fun cafes; they keep popping up like hot cakes. Bali Bowls and Smoothies' founders saw this trend and jumped on it after taking a trip to Bali in 2016. In fact, they opened 3 cafes in 3 different locations, an expansion some have seem world wide.
Even before you walk in the door of Bali Bowls and Smoothies, you feel as if you are in a tropical oasis. Island vibes and luxurious white wicker chairs with tribal pillows decorate the outside. Add in the cactus wall and you're already feeling the modern island life. All of this before you even enter the shop and order your taste of delicious tropical splendor!
Inside is equally appealing with eclectic decor and their own product line of eco friendly products. One of which is their branded coconut bowls with the words "made with love in Bali" carved perfectly inside- perfect for a yogi's breakfast.
To fully enjoy the experience make sure to arrive on an empty stomach. You will not want to miss indulging on the many offerings, including an array of different buddha bowls and smoothies bowls. Whether you are in the mood for something sweet or savory, Bali Bowls and Smoothies has you covered. Their dynamic menu brings the freshest, locally sourced produce designed to nourish your body and soul.
One of their signature bowls is the over the rainbow bowl – literally serving rainbow quinoa and unicorn toast (yes, you read that right). What better way to relax and take in the good Bali vibes than eating healthy, rainbow food? If you are not in the mood for a bowl, they also have delicious wraps, and healthy curries to satisfy your taste buds.
If you enjoy staring your day with some yoga, make sure to join one of the Free Yoga classes on Tuesday mornings. Any of their smoothie bowls are very filling and have a light texture making for a refreshing and perfect choice for an after yoga meal.
An added bonus- the founders surely had travelers in mind when creating this space as it is incredibly Digital Nomad Friendly- with plugs located all around the cafe. A great place to fuel your mind and tune in- or just charge your cell phone (we know that's important too!).
If you're in Bali- you can't skip on Bali Bowls and Smoothies. My prediction: like me I bet you will end up there many times!
For more info on Bali's best spots for the modern yogi STAY | SPA | PLAY | EAT | SHOP | YOGA – Download our ULTIMATE BALI GUIDE for free.
Read next >> kynd community