bali bohemia hotel
Published: 20-11-2016 - Last Edited: 12-08-2021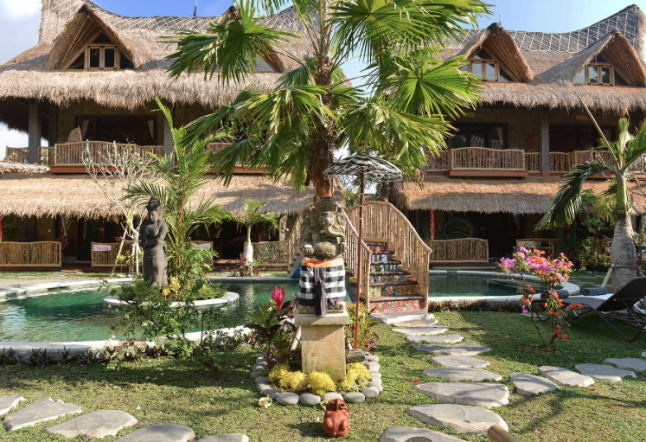 Tucked behind Ubud's Monkey Forest, you will find Bali Bohemia hotel, a beautiful oasis. You are immediately welcomed by a vibrant, spiritual and creative energy, synonymous with well-known qualities of Ubud. The friendly staff directs you through a colorful entrance and go out of their way to make sure you feel welcome and comfortable during your entire stay. The décor is a true representation of Nyoman and his partners, the creative geniuses behind the hotel.
Bali Bohemia is a fusion of multiple talents. Nyoman's architectural design is complimented by a beautifully choreographed collaboration between each owners' vision: evocative of old Ubud. Nyoman's expertise comes from his experience with woodworking and Scandinavian design. He took a non-traditional approach building the hotel, where he built his vision without the aid of architectural drawings. The hand painted murals throughout the hotel are a contribution from two members of the community who grew up with Nyoman.
Nyoman started carving and working with wood since the age of ten. He is well known in the village for his superior craftsmanship and has contributed to preserving the tradition of wood carving by holding courses in Ubud. You can see the beautiful intricacies of his work sprinkled around Ubud, including the Komodo Dragons by the holy water in the monkey forest.
The hotel allows local artists to display their work free of charge in an effort to support Balinese artisans and encourage creative expression. Nyoman's partners, a couple from Dubai, both have a craving for authenticity and artistic expression. Jessica, Nyoman's partner has an innate ability to express her love for color and textiles. Each room in the Bali Bohemia Huts are unique with their own decorative theme and positive messages to make you feel like you are truly in a wonderland of Ubud bliss.
If you are looking to expand your experience in Ubud, Bali Bohemia is a hidden gem that still holds true to the spiritual qualities we are all looking to experience. The exclusivity of the hotel will be sure to give a personalized experience for each guest.


Related: review of Bali Bohemia Restaurant
For more info on Bali's best spots for the modern yogi STAY | SPA | PLAY | EAT | SHOP | YOGA – Download our ULTIMATE BALI GUIDE for free.