azul spa
Published: 14-04-2011 - Last Edited: 17-11-2022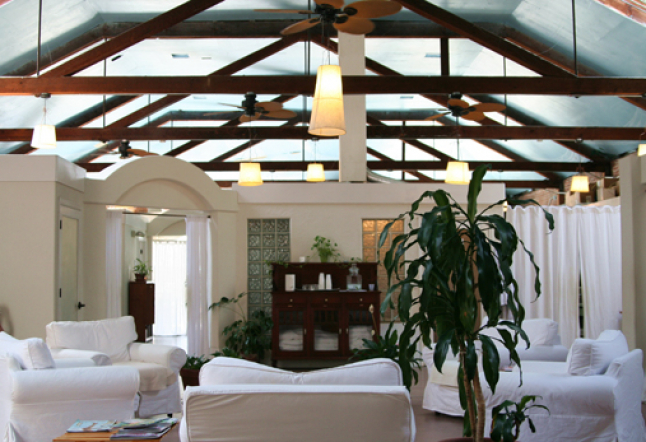 natural beauty that results from relaxation and a sense of well-being
I knew it was time for spring cleaning because my neighbor was leaving piles of stuff on the sidewalk that she no longer needed, labeling them with a "free" sign so that people passing by could take home whatever they fancied. So I gathered up my natural cleaning products and my awesome rag collection (old towels, tablecloths and cloth napkins) and got to work. But then I looked down at my feet! To put it simply, they were more of a mess than my house was. And what about all those other parts of me that had spent all winter hidden under jeans and sweaters? I began to wonder: Was there somewhere in my neighborhood where I could get an organic spring cleaning for my body?
Azul Spa in North Berkeley was delighted to oblige. A majority of the products they use are organic, including a recently added line of body polishes. In fact, there were so many options available""massages, facials, pedicures, manicures and waxing, body wraps, specialty baths""it was difficult to for me to make my choices, but in the end, my custom-designed Organic Spring Cleaning spa day included a facial with Naturopathica and Pevonia products, a Sumatra Coconut Body Polish and a Tropical Pedicure.The spa is located just off Solano Avenue in the Thousand Oaks district of Berkeley (if you need something to eat before or after your treatment, several wonderful restaurants are in the immediate vicinity), and is a woman-owned-and-operated local business. As soon as I arrived, I was offered a complimentary cup of herbal tea and a free steam bath (included with every treatment) and was ushered into the spa. The moment I entered that beautiful, serene sanctuary, I immediately began to unwind. The spa is very "California" in feeling, with Spanish-style, arched doorways leading to the treatment rooms.
White linen curtains softly filtered the sunlight and an eternally blue sky paints its lofty ceilings, creating a spacious, airy and soothing atmosphere. A row of magnificent claw-footed bathtubs stood awaiting those who opt for a Moor Black or Milk and Honey Bath, making me momentarily regret that I hadn't chosen a soak. It was very difficult to believe that this tranquil retreat was just a few steps away from a busy urban neighborhood.
I began my Organic Spring Cleaning with a European-style facial. To be honest, when I had booked my appointment, my feet were in such bad shape that I'd been thinking solely of what would result from my treatments: soft, exfoliated skin and clean, attractive-looking feet fit for a yoga class. But as soon as the esthetician began gently massaging my face with a wonderful smelling organic cleanser, I realized how utterly delicious and relaxing the treatments themselves were going to be. And indeed, the body polish that followed the facial was the best of both worlds: an expert massage by a body worker combined with an allover exfoliation using flakes of real coconut and a yummy sugar body polish. And having my feet scrubbed and massaged during a professional pedicure was, as always, one of life's great pleasures.
One of the owners, Judy Foster, explained to me that at Azul Spa the emphasis is on the natural beauty that results from relaxation and a sense of well-being. And I must say that she herself, as well as all the women who worked at the spa, had beautiful, glowing skin and an aura of serenity (and yes, they do give each other treatments""I asked).
As for me, I left the spa feeling sparkling clean, plus I smelled great. Now to get my house looking as good as my feet….
Read next >> Villagio Inn & Spa