alkaline cafe and restaurant
Published: 11-02-2019 - Last Edited: 09-10-2022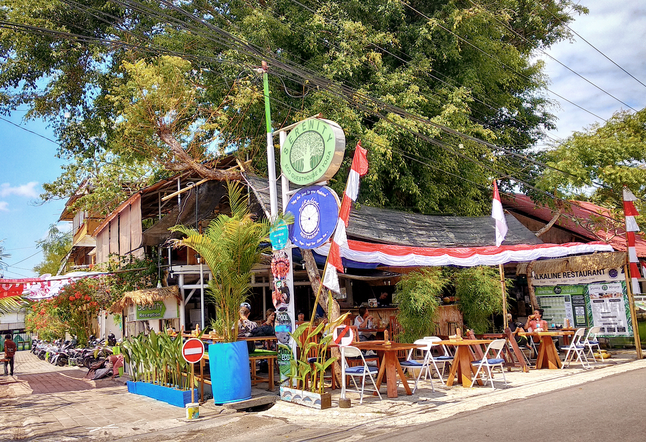 Nestled within Serenity's many yoga shalas, Alkaline Restaurant & Cafe is where home-cooked food meets the essential nature of health and happiness.

Warmed by energetic staff and innovative vegan and raw cuisine, this artisan cafe embodies a menu with wholesome love and a plentiful mealtime ritual.
Built by a husband and wife team and growing family business, the entire operation has been a beloved creation for nine years.

In the center, a big banyan tree planted by the family almost 2 decades ago stands tall and strong.

Mother, Yatna, is the creative Balinese women behind the menu, transforming street food into vegan nourishment.

She has converted mainstream favorites, such as the donut (aka do – not), fried rice and banana splits into heart stoppers and heart warmers.
The food is inspired by her three principles.

Firstly, let food be your medicine.

Secondly, it is everyone's right to eat well and should be accessible to all budgets.

Thirdly, it must be worth every penny. This is the promise you can taste in every mouthful.
Go with an appetite to Alkaline as its wholesome salads, classic favorites, gluten-free bread, loaded veggie wraps, and organic rice will fill you up satisfyingly. Fresh herbs in their salads, are full of intense flavor, coming straight from the permaculture program onsite.

They take all the measures to increase the alkaline in every hearty dish, even enhance KNG water with PH to decrease acidic impurities.
The family shares their prosperity with you, never cutting corners when it comes to pure ingredients.

The juices are 100% without added sugar, additives or shortcuts.

Their deluxe desert window offers more therapy for your tastebuds, from a variety of sweet treats, ice-creams and baked or raw goods.
This wholesome conscious hub is a friendly space, great for meeting like-minded, open people.

With lovingly made dishes full of nutrients and positive vibes, you can relish in abundance at Alkaline Cafe.

Your immune system will be thanking you later, as you leave after a high-energy, balanced meal.

For more info on Bali's best spots for the modern yogi

| STAY | SPA | PLAY | EAT | SHOP | YOGA |
Download our ULTIMATE BALI GUIDE for free