ahimsa yoga studio
Published: 01-09-2014 - Last Edited: 03-11-2022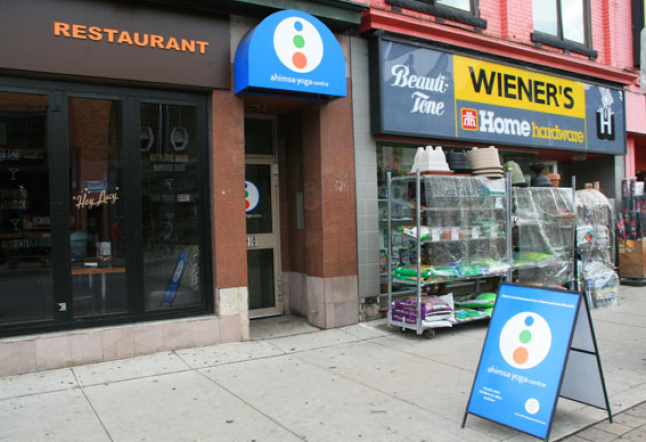 Ahimsa Yoga studio is a welcoming, loving, accepting space to begin or deepen a yoga practice. The studio opened in 2010 by John-Paul (JP) Tamblyn-Sabo, who is also the founder of Ahimsa Yoga, a holistic approach for individual empowerment by assisting students to realize their fullest, most beautiful expression of their self.
The area where the studio is, is referred to as the Annex, a beautiful area located near downtown Toronto, home to a diverse offering of studios, restaurants and shops, right on the Bloor subway line. It offers a wide range of yoga classes suitable for all levels. Some of the classes include: Ahimsa Yoga Level 1 & 2, Vinyasa Flow, Ahimsa Hatha, Foundations Class (beginner friendly), Community Class, Karma Class, Restorative and many workshops running throughout each month! All of the yoga classes offered fall into one of 3 categories: sukha, meaning "ease"; sthira, meaning "steadiness, in balance" and virya, meaning "power, vigor, courage."
Ahimsa Yoga integrates sacred yogic traditions with modern physical and healing practices of yoga. J-P integrates the yoga sutras along with the Ahimsa yoga philosophy in his classes and deeply touches and inspires each and every one of his students. The yoga experience at Ahimsa Yoga is truly invaluable.
Full of light and welcoming to all individuals and Ahimsa Yoga studio is a huge blessing to the Toronto yoga community.
Read next >> branch yoga & wellness