acroyoga solar immersion barcelona
Published: 28-07-2017 - Last Edited: 09-11-2022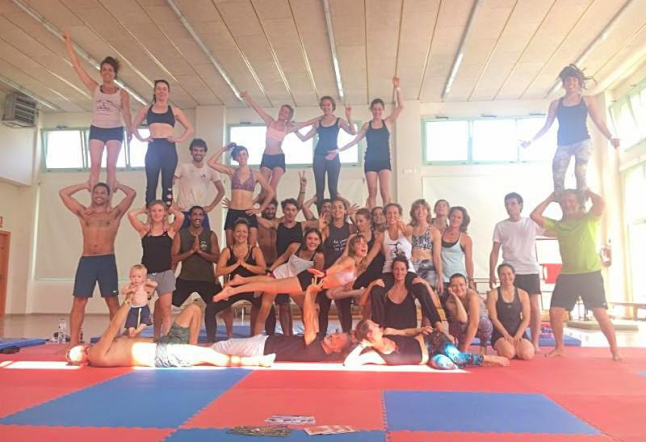 AcroYoga, created by founders Jason Nemer and Jenny Sauer-Klein, blends three main elements: yoga (Elemental), acrobatics (Solar), and healing arts (Lunar). The combination leaves room for a lot of magic and growth to happen. This practice elevates the connection between you and others through movement, connection, and play.
From the moment you take your first AcroYoga flight, you get a big smile on your face, your fears instantly dissolve, and you tap into new and infinite possibilities of communication, trust, and union. AcroYoga is such a great way to meet people from all over the world, and to learn to trust, support and empower each other. You develop strength, softness, and listening skills.
Just before the Barcelona Yoga Conference started, we joined an AcroYoga Solar Immersion. The teachers, feminine duo Daniela Garza Rios (from Mexico) and Sonia Peltzer (from France and US) taught in Spanish and English for about 34 acro addicts from 13 different countries who participated.
Sonia (also an astonishing climber) and Daniela (also teacher of Alternative Medicine, Healing Arts and yoga) are among an amazing AcroYoga couple, always radiating so much joy every time they fly. These Ninja women, who met at an AcroYoga Teacher Training in Greece a few years ago, are perfectly matched co-teachers, like Yin and Yang. While Sonia is more keen on technique, safety, and spotting, Daniela inspires with her enthusiasm and sensitivity. She listens and supports you to your best version in such a beautiful and positive way. Their favorite pose together is the one arm hand to hand. Stunning!
The training was based in the 'In Out Hostel', just 20 minutes away from Barcelona city. It was the perfect location, with a big gymnastics room with air-conditioning, and a pool to refresh and refine your foot to hand in between sessions.
The program of this Solar Immersion was well set up. We started with refining the foundations, and we built up to more precise acrobatic work during the days. Morning sessions always started with the Solar AcroYoga Asana sequence to warm up the muscles and cultivate breath awareness.
Then it was time for the strength and fitness training, with a special focus on the tightness drill. Also, every day we worked on our handstand to enhance alignment, balance, and endurance in this inversion. Afternoon sessions usually started with a name game or a dance to play, laugh and overcome the after lunch dip.
And then it was time to fly! We learned both basing and flying and the art of spotting. We had so much fun practicing L-Basing, Standing Acrobatics, Hand to Hands, Flows, Flying Transitions and Washing Machines, to name a few of the poses.The last day we practiced a sequence blindfolded, which was a mix of fear and excitement! The day always ended in a loving way, with some Thai Massage to cultivate compassion, listening and letting go.
If you are ready to learn, to play in a safe environment, and to push your personal limits, AcroYoga courses are available all over the world, and many teachers are well certified. As for Sonia and Daniela, they will be travelling around the world giving workshops, retreats, and trainings.
For more info on Sonia – yogasquirrels.com – Daniela danielamandala.com
Read next >> jungle yoga