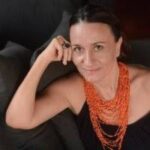 Sophie Parienti
Bringing people together seems to be an ethos for Sophie Parienti. After earning her BA in Art History at the University of Bordeaux, France, she pursued an interest in Media and Communication with a Public Relations Certificate at UCLA.
Since first arriving in the states in 1992, she has delved deeply into the world of holistic health and yoga philosophy.
Sophie trained with some of the most respected teachers in Los Angeles and turned her understanding of yoga into a lifestyle. In 2001, she founded YOGI TIMES magazine in Los Angeles by gathering a team of passionate and dedicated entrepreneurial spirits who made possible the worldwide expansion of the brand via www.yogitimes.com, www.yogitimesuni.com and www.yogitimesboutique.com
She now lives between Bali, South of France and Los Angeles with her husband (YOGI TIME's co-founder, Jean-Christophe Gabler) and their son.