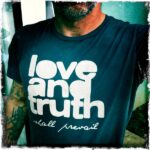 Mirko Betz
Born and raised in Germany, I was a DJ for over ten years until I started my own fashion label in the mid 90s .

Arriving in Los Angeles in 1999 I sold and developed screenplays.

I am a lover of yoga and a student of Eckhart Tolle and Byron Katie,s The Work.

I am now living and breathing Yogi Times.

Based in Venice Beach California, I love to travel in my quest to meet and explore interesting people and places.
14 Articles Published
|
Follow: