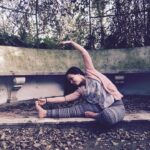 Joana Santos
Joana is a 22 year old girl who is passionate about life.
She studied journalism, as she wanted the answer for the big question: "What is my purpose in this world?". But it didn't happened.
She only found the right path to herself when she went to her first yoga class. She fell in love with Anusara Yoga and, since then, she can bring a little peace to her world and, consequently, to the world of others. Eager to learn more and more, this Portuguese girl loves to go to workshops, trainings and lectures that teaches her a little bit more how to access her heart and the hearts of others, through the beautiful and truthful way of life that is yoga.
Currently, she is a kids yoga teacher. Her dream is to travel around the Earth and leave smiles on the faces of those she meets, because – she believes – there is nothing better than to make someone happy.
You can contact her through the e-mail joanagoeszen@gmail.com and follow her journey through her Instagram account (@joanagoeszen) and her blog www.joanagoeszen.wordpress.com.
13 Articles Published
|
Follow: