time out in tulum, mexico
Published: 28-09-2011 - Last Edited: 29-01-2022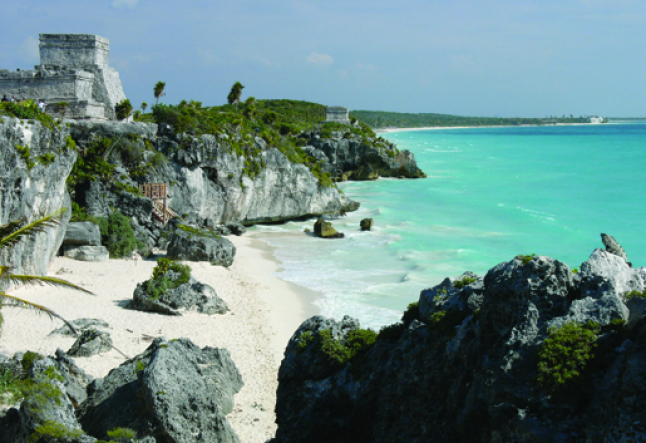 mexico's hot spot for yoga practice, secluded beaches and water sports blends mayan tradition and modern culture
Do you need to slow down, let go of your "to-do list" and take a break from your routine? Perhaps it is time for a trip to the tropics, to a place where the emphasis is not on drink specials but on vida pura, (pure life).
Ninety minutes south from the party zone of Cancun lies the tranquil town of Tulum on Mexico's Caribbean Coast. Famous for its Mayan archeological sites, Tulum is a mystical spot where indigenous traditions meet modern holistic practices. With miles of palm-lined beaches, a swath of turquoise water and a laid-back atmosphere, Tulum offers a peaceful oasis to international visitors. With one week to spare, a visitor can use Tulum as a base for day trips to the Mayan ruins, swimming holes, a biosphere preserve and a rejuvenating spa.
Tulum Ruins
The Mexican state of Quintana Roo contains a number of Mayan ruins, but the best-known are in Tulum's archeological zone, a 10-minute drive from the town of Tulum. Perched above the sea, the ruins, including 60 well-preserved structures, were part of a series of Mayan forts and watchtowers built along the coast.
"The place has a real resonance to it, like it's got its own heartbeat," said acupuncturist Jason Cronin of Santa Cruz, CA, who visited Tulum last November with his wife Varvara Paizis. "I got a sense that the people who lived there had an elegant life on that beautiful, turquoise, clear water," said Cronin. "It was no mistake that they built there! It's a power point."


Wandering amongst the ornately carved stone buildings, one can imagine what day-to-day life was like in 1450, the time when many of the buildings were constructed in what later became a prosperous trading community. Particularly impressive is "El Castillo" (the castle), a towering pyramid on a limestone cliff overlooking the sea. A wonderful beach, full of pristine coves, is also part of the price of admission to the ruins, so pack a picnic and plan to spend at least half a day there.
Cenotes
Unlike the ruins, the cenotes are one of the best-kept secrets of the area. Cenotes are natural sinkholes that form as a result of the ebb and flow of underground rivers and lakes that permeate the limestone slab of the Yucatán Peninsula. Each cenote is different; they vary from tiny wells and open-air pools to dark, deep pools in caves that are ideal for bold scuba divers. One that is well worth visiting is the Gran Cenote, which is surrounded by dramatic rock columns. It is popular for swimming and snorkeling. Though there are few fish in the cenotes, the clarity of the water allows for superb viewing of the cave structures.
"We were inspired by the cenotes. We wanted a water vacation and liked the idea of the fresh water caves next to the ocean," said Varvara Paizis. Her husband agreed: "It's all about the water," said Cronin, explaining that the cenotes are underwater limestone aquifers that open to the surface. "It is fresh water in the cenotes, so no saltwater in your eyes. The water is crystal clear, much clearer than saltwater. It's safe in terms of currents and sharks. And it's very magical!" There are at least ten cenotes within an hour's drive of Tulum.
Sian Ka'an Biosphere Reserve
Another must-see is the Sian Ka'an Biosphere Reserve. Meaning "where the sky is born" in Mayan, the Sian Ka'an encompasses lagoons, reefs, lakes, mangroves and a fishing village in its 1.2 million acres. "It's magnificent," said Cronin, who recommended a guided day-tour (anayjose.com) that he enjoyed with his wife.
"The diversity of plants and animals were amazing. I actually got a feel for what the Mayans lived amidst. The highlight for me was floating down the limestone canal between the ocean and the lagoon. Surrounded by mangroves and wild orchids, you just get in that canal and float 45 minutes in silence, gazing at those beautiful white clouds that look like a herd of buffalo. It was paradise."
Maya Spa and Yoga Classes
A mellow place like Tulum is an ideal setting for yoga classes and a trip to the spa. Kelly Blaser, who has been teaching primarily Iyengar and Vinyasa yoga for nearly a decade in central California, has led three yoga retreats to Tulum, each featuring yoga, salsa and Spanish classes (yogawithkelly.com). "I have felt the most open and most healed in my practice during my weeks there," said Blaser, adding that a highlight was "being able to jump in the healing water six times a day." If you are not on a yoga retreat, check out the daily yoga classes at Cabañas Copal.
Another great way to unwind is with a trip to Maya Spa (mayaspa.com), a holistic spa that serves both day visitors and the overnight guests of its three neighboring eco-hotels (ecotulum.com): Cabañas Copal, Zahra and Azulik. Maya Spa, located in straw-thatched huts under palm trees, steps from the ocean, specializes in treatments that mesh traditional Mayan knowledge with modern day Western spa services. One of the most intriguing services is the temazcal, a three-hour long, ancient sweat lodge purification ritual that cleanses and detoxifies the body. Guided by a local shaman who leads chants and music in a steamy, sauna-like hut in the jungle, the temazcal forges "a magical connection that has been forgotten and that exists in the Earth and in all parts of our being," according to spa manager Lucrecia Bloomquist. Many visitors go to the spa for a healing massage from Daniel Pool Pech, a local Mayan shaman whose therapeutic skills came to him through dreams.
Whatever your plans on the Yucatán Peninsula may be, many folks find Tulum transformative. "It's a magical land, filled with stories," said Jason Cronin. "It is a great place to get in touch with your deeper self, by just simply going there and allowing the land and the environment to touch you."