So, you've decided to enroll in yoga instructor training and pursue your yoga teacher certification? That's fantastic! Even if you never plan to teach a day in your life, I believe that enrolling in a 200-hour yoga teacher training program is one of the most beautiful, life-changing things you can do for yourself.
How to pick your 200-hour yoga teacher training
With so many training choices available, how do you even begin to choose which program is best for you? How can you tell whether the one in which you'll be spending a few thousand dollars and at least 200 hours of your time will pay off?
As a brief overview, here are the best 19 online yoga certification programs we choose. The following article goes further into the subject:
My Vinyasa Practice (200 – 300 – 500 Hr) is very approachable.
Stephanie's Online Yoga School: 200 and 300-Hr: Yin, Restorative & Vinyasa
Scott Moore Yoga: Build Your Own Voice.
Power Yoga Yoga Instructor Certification Online with Bryan Kest (expect 2 – 3 Hours per week) – 3 Live Q & A Zooms with Bryan Kest – Self Paced
Brett Larkin Yoga Uplifted: A Personalized yoga certification
Zaz Yoga School – Individualized instruction with a communal feel
Brett Larkin's Prenatal Yoga: Pregnant & Powerful Yoga Instructor Training
Yoga Renew is an online resource that provides a well-rounded foundation.
Yoga Farm Ithaca: In-Person Yoga Instructor Training
Kundalini Warrior: 200 Hour Yoga Teacher Training
Shoulders: Anatomy, Dysfunction, and Application with Tiffany Cruikshank and Rachel Land
Yoga for Athletes: Sage Yoga Instructor Training
Yoga International: Comprehensive restorative online yoga instructor training program
Yoga Vastu: Beginners Yoga Instructor Training
The Functional Approach: Pranamaya Yin Yoga
Yoga Veda School: In-depth and Professional
Soma Breath: A Transformative Journey
Siddhi Yoga Restorative: Restorative online yoga certification
Siddhi Yoga Ayurveda: Experience and yoga teacher certification support
Siddhi: Profound Yoga Teacher Training
Use the below menu to navigate directly to your desired section of this article.
Choose the type of yoga that supports your intention.
Hatha Yoga and Vinyasa Yoga Instructor Training
Power Yoga
Restorative Yoga
Iyengar Yoga Instructor Training
Nidra Yoga Instructor Training
Yin Yoga
Ayurveda Yoga
Prenatal Yoga
Breathwork Yoga
How to get the most out of your 200-hour yoga teacher certification
Find a yoga teacher training near me.
Choose the hours that work for your yoga instructor certification.
Make sure your training is yoga alliance certified.
Congratulations!
Choose the type of yoga that supports your intention.
Yoga is an intentional practice. That doesn't imply your goal has to be enlightenment or global peace (though these are great goals); your destination—or rather, your purpose for practicing yoga—can be whatever you want to develop and bring to your students.
You get more out of your time on the yoga mat when you practice with an intentional goal, whether it's to feel better, develop more compassion, build strength, reduce weight, become more aware, manage stress, alleviate pain, or any number of other reasons.
Having an intention can also help you select the appropriate teacher training style for you, whether it's Vinyasa yoga, Nidra yoga, Power yoga, or any of the many other forms.
1. Hatha Yoga and Vinyasa Yoga Teacher Training
Hatha Yoga is the quest for harmony between the masculine and feminine sun and lunar energies. It is accomplished via the connection of the intellect and the soul and a complete focus on action.
Vinyasa represents the synchronization of breathing and movement as a connection between mind, body, and breath. It adds energy and energy to the exercise, although there is no set sequence. Because the time spent in postures is shorter than in Hatha, the lessons are more rhythmic and flowing.
Hatha Yoga is the most popular beginner's practice since it has a slower tempo and can be modified for any audience. The asana sequences in Vinyasa Yoga are flowing and synchronized with the breath, making the practice more intense. Here are some of our favorite yoga instructor training programs in the Hatha and Vinyasa styles: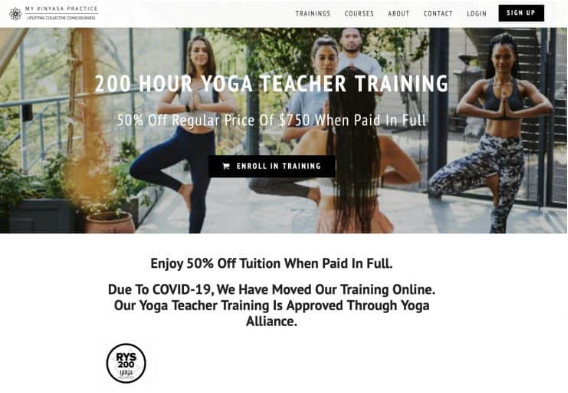 Vinyasa Practice yoga instructor training course is an option to conventional studio-based yoga teacher training programs while still providing the same level of instruction, depth of learning, and customized experience. Instructors who graduate from this 200-hour yoga teacher training are qualified to show individual clients, groups, and corporations in the studio, gym, retreats, and therapeutic settings after they have completed the program.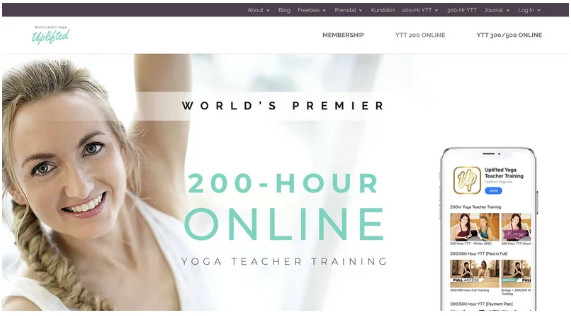 The 10+ hours of business training provided by Brett Larkin's yoga teacher training UpliftedTM to help students thrive as certified yoga instructors in the digital era is one of the most exciting aspects of the program. It covers everything from how to promote yourself online to how to negotiate your price with studios.
Zaz Yoga: Supportive Teacher Training Community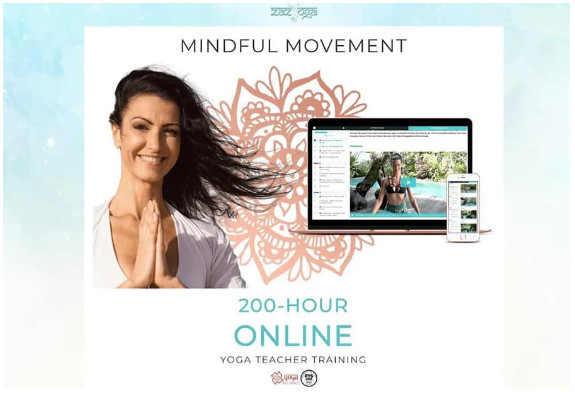 Zazyoga's online yoga certification stands out because of its personalized approach. The Zazyoga student becomes a part of a community that develops a profound knowledge of yoga as a best practice and lifestyle via daily personal feedback and one-on-one coaching from the instructors.
Yoga Renew: Well Rounded Foundation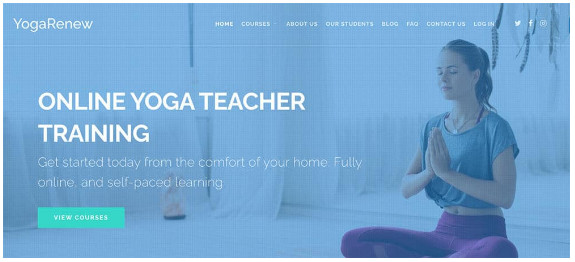 This program will enhance your yoga knowledge for the same price as a weekend course, whether you are a beginner or an experienced Yoga student. This teacher training course appealed to us not only because of the low price but also because of the outstanding cohesion and solid basis of the offered yoga philosophy.
Yoga Farm Ithaca: In Person Yoga Instructor Training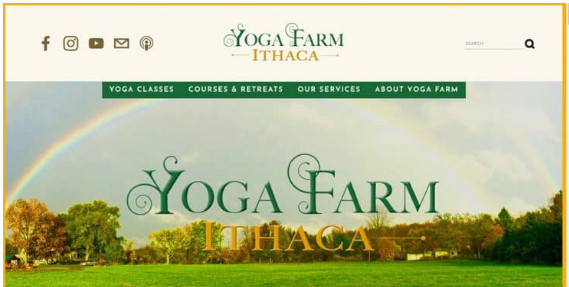 Online Yoga & Mindfulness with Radiant Warrior Vinyasa yoga, Hatha yoga, and Mindfulness training are included in the yoga instructor's training certification. In addition, you'll learn how to teach yoga both online and in-person with Yoga Farm's 200-hour Yoga Teacher Training Certification. This instructor training is conducted by a charity as a live expression of their goal to provide yoga to as many people as possible.
Siddhi: Profound Yoga Teacher Training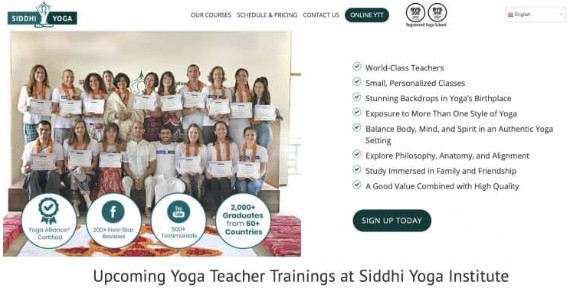 This yoga instructor training is a comprehensive course based on the excellent teachings of Siddhi Yoga institutions all across India. This online yoga certification is taught by three Indian yoga instructors who guide students through advanced yogic practices based on authentic yogic principles. It is a yoga course for you if you're looking for a low-cost, fun yoga experience.
2. Power Yoga
Teacher training Power yoga is a more dynamic version that is suitable for people who love the practice but want something more intensive. As a result, it is often performed at gyms, as it is a more active form of yoga. Other techniques, like ashtanga vinyasa, have influenced it.
Also Read>>> How to use yoga straps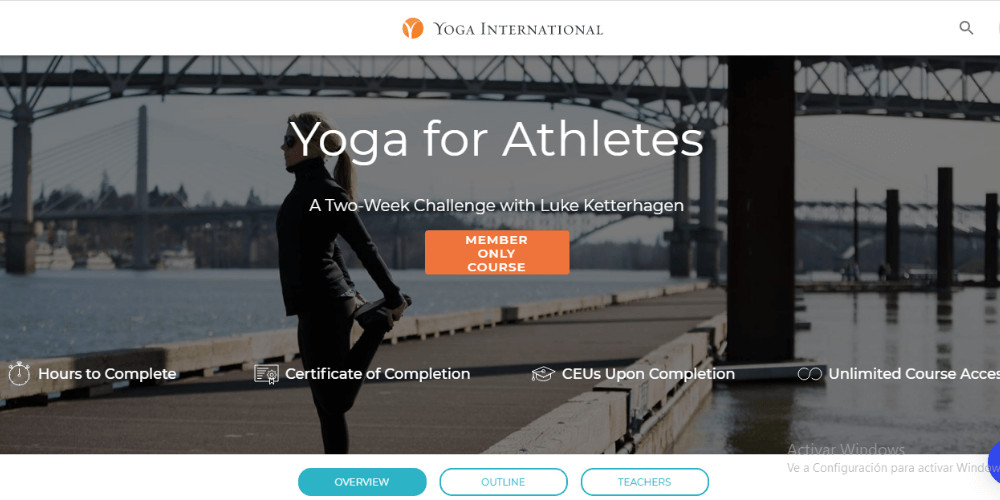 Examine the intricate relationship that exists between these two disciplines, Yoga and Sports. A teaching professor, columnist, author, teaching trainer, and columnist Sage Rountree created Yoga for Athletes, a dynamic online yoga instructor training for athletes that includes online courses, reading material, lectures, weaving, discussion groups, and more.
This online yoga teacher program will assist you in improving your practice, developing a business plan, making your yoga philosophy accessible to your students, and preparing you to teach athletes of all levels.
3. Restorative Yoga
Restorative yoga is usually shorter than usual asanas in the way they are held, ranging from five to twenty min. Asana practices are supported by various props, including eye pillows, walls, bolsters, blocks, blankets, yoga sandbags, belts, and chairs, to reduce any potential strain and tension. Taking restorative yoga instructor training is a great way to share this incredible practice with students!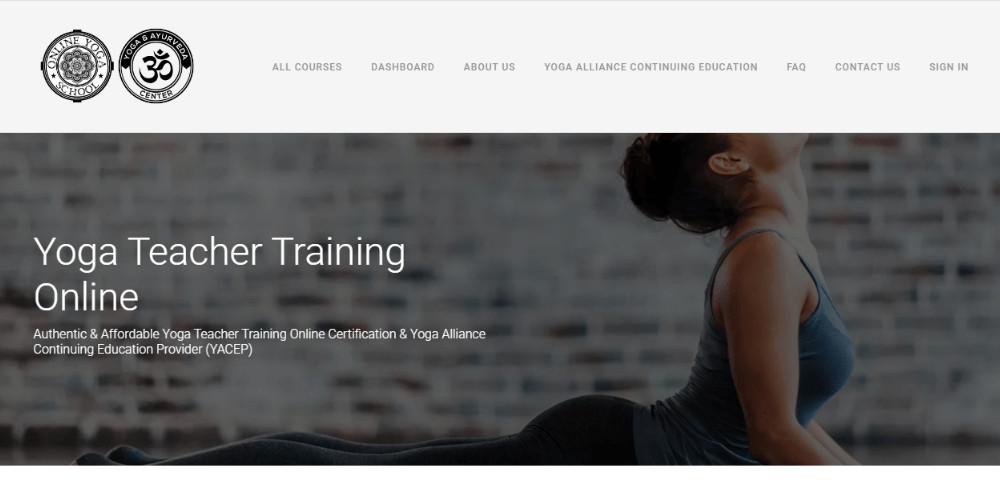 This comprehensive online yoga teacher certification program delves into the foundations of philosophy and practice. It's a self-paced yoga instructor certification program that runs on any computer. After finishing the course, you will be given free lifetime access to their online community as well as a substantial amount of additional help.
Yoga International: Comprehensive restorative online yoga teacher training program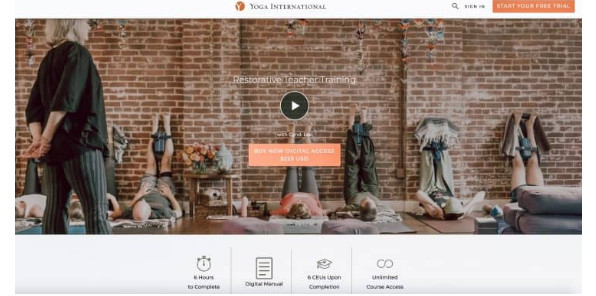 Cyndi Lee guided students through teacher training to learn how to deal with various body sizes, shapes, and abilities while using restorative postures and concepts. When conventional props aren't accessible, Cindy will teach prop hacks. She also includes two Buddhist meditation techniques within the complete sequences presented in the course.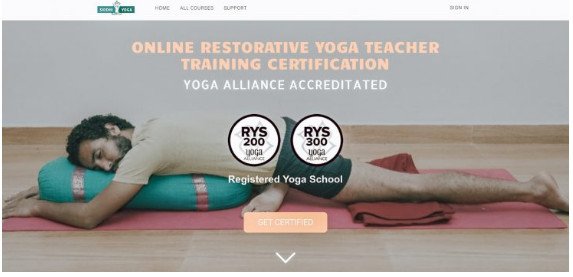 Yoga Master, Dr. Shobhit Ghanshyala in Rishikesh, India, offers a 25-hour self-paced online yoga teacher training. Shobhit, also known as Govinda, began practicing yoga in his early twenties. He trained with several inspirational instructors at many traditional schools and ashrams such as Sivananda Ashram, Ashtanga Ashram, and Iyengar Ashram. As a result, he is a Yoga Alliance Continuing Education Provider (Y.A.C.E.P.) and E-RYT 500 certified by Yoga Alliance U.S.A.
4. Iyengar Yoga Teacher Training
Iyengar Yoga is based on master B.K.S Iyengar's teachings. Asanas are taught with great technical rigor and an emphasis on alignment in this online yoga certification. The beginning student rapidly develops energy by bringing the flow of prana to his cells, waking body awareness, and enhancing his health.
Yoga Vastu: Beginners Yoga Instructor Training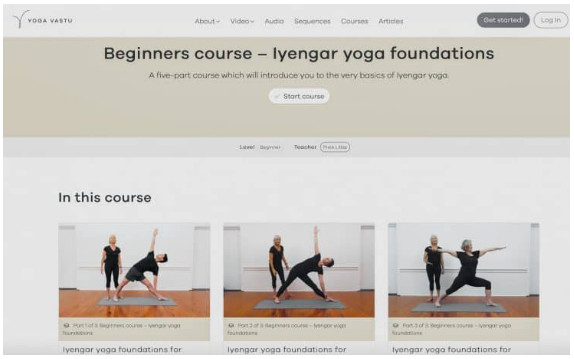 Yoga Vastu provides live streaming Iyengar yoga videos. They've been teaching for forty years and are still up to date on the newest musical trends.
They offer a range of online courses and certification programs, but the Iyengar basic foundation 200-hour yoga teacher training is designed for beginners. This online Y.T.T. for beginners provides a step-by-step introduction to the fundamental postures and enables consistent development from class to class.
5. Kundalini Yoga Teacher Training
Kundalini yoga, unlike other types of yoga, like Hatha and Vinyasa, is a deeply spiritual discipline. Kundalini yoga emphasizes the energetic as well as physical aspects of our bodies, with a greater emphasis on breathing exercises and pranayama. Kundalini is an approachable style of yoga for many people since the breath is often more essential than the physical movements.
Kundalini Warrior: 200-Hour Yoga Teacher Training at Yoga Farm Ithaca
Yoga Farm Ithaca's Kundalini Warrior online yoga teacher training will enable students to teach Kundalini yoga in a safe and nurturing setting. Yoga Farm Ithaca's Teacher Trainers believe that yoga can be a therapeutic and accessible practice, and this idea is firmly based on their trauma-informed approach.
6. Anatomy Training
When entering a yoga instructor training program, many students are excited to learn more about how to create a sequence of yoga poses or the spiritual teachings and philosophy of yoga. But good yoga teachers should also be well-versed in anatomy. Knowing the skeletal and muscular systems of the body can assist you in keeping students safe in your classes, as well as help you better understand how the body works!
The shoulders are not just one of the most flexible joints in the body, but also one of the most fragile. The shoulders play a crucial role in our yoga practice, and it's critical to understand the anatomy and biomechanics of this amazing joint so that you and your students stay injury-free.
Tiffany Cruikshank and Rachel Land, are anatomy experts and yoga teachers. In this short, 55-hour training, they will explore the anatomy of the shoulder, its ranges of motion, how to identify injuries, and a variety of movement practices you can do with students to help them protect the shoulder and harness its incredible potential.
7. Nidra Yoga Teacher Training
Online yoga teacher training Yoga Nidra, also known as yogic sleep, is a meditation method for achieving deep degrees of physical, mental, and emotional relaxation. It is profoundly restoring and provides a feeling of completeness.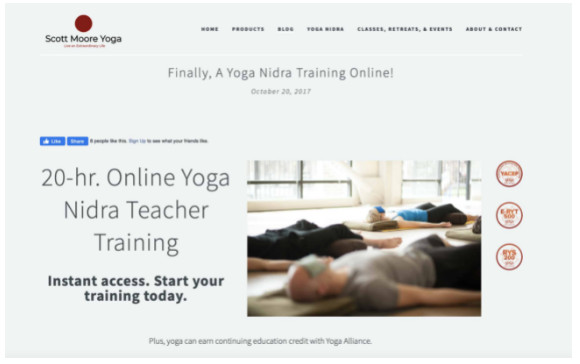 This online yoga teacher Nidra training may help you get a better understanding of Yoga Nidra. It also educates students about its philosophy and how to develop their voice to express themselves honestly and forcefully.
8. Yin Yoga
The Taoist perspective of the universe and the division that it does everything in yin/yang and the constant change of energy are linked to yin yoga practice.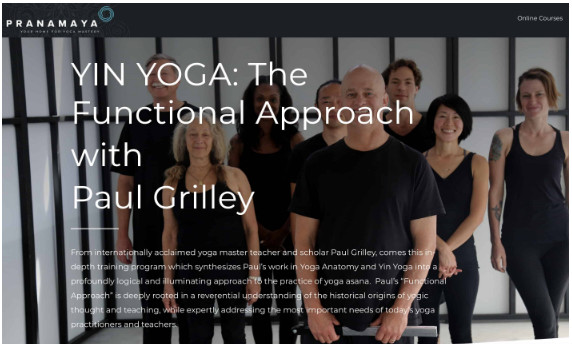 The notion that everyone must attain a visually "perfect posture," according to Paul Grilley, master instructor of The Functional Approach course, is a misconception that may lead to ineffectiveness and even damage.
9. Ayurveda
Yoga and Ayurveda complement each other well since they are both Indian systems that promote meditation, breathing, and postures as part of a healthy lifestyle. The chanting of mantras and the usage of medicines are also part of it. It's as though Ayurveda is a science, and yoga is how that knowledge is practiced. An Ayurvedic yoga instructor training will teach you how to bring both practices together.
Siddhi Yoga Ayurveda: Experience and yoga teacher training support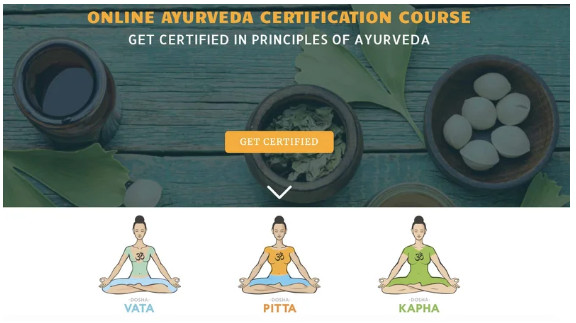 This 25-hour course, given by Dr. Vikas Kumar Sangotra of Mohali, India, is an excellent introduction to the three doshas of Ayurveda. He is a North Indian Ayurveda Medicine and Surgery (B.A.M.S.) graduate. He acquired the technique of Gunna Siddhanta and was exposed to a wide variety of clinical situations and panchakarma while studying under Dr. L Mahadevan's guidance.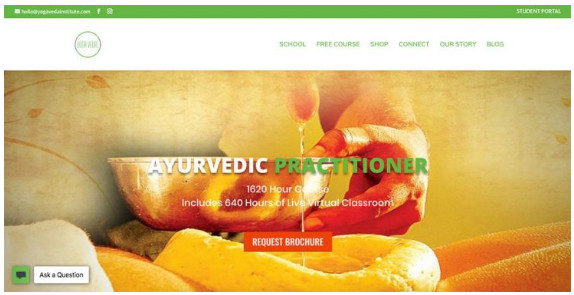 This multimedia (online) course in pathology and disease management was explicitly designed for a high-quality distance learning program. It offers all of the essential advice, support, and ongoing education for Ayurvedic Practitioners to improve their skills and abilities.
10. Prenatal Yoga
A Prenatal teacher training course allows you to further your profession while guiding pregnant people through the stages of pregnancy and preparing them for a smooth delivery transition.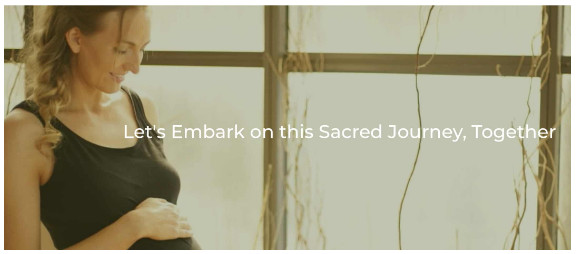 The Uplifted Pregnant and Powerful course is teacher training that focuses on tapping into the inner wisdom that already exists inside you as a woman and teacher. These courses incorporate mental exercises, mantras, and affirmations in addition to sculpting and stretching to help you overcome any worry about pregnancy and delivery or learn to teach it to your students.
11. Breathwork
Breathwork is a breathing practice that alters your breathing patterns to change your feelings and enhance your mental and physical health.
Soma Breath: A Transformative Journey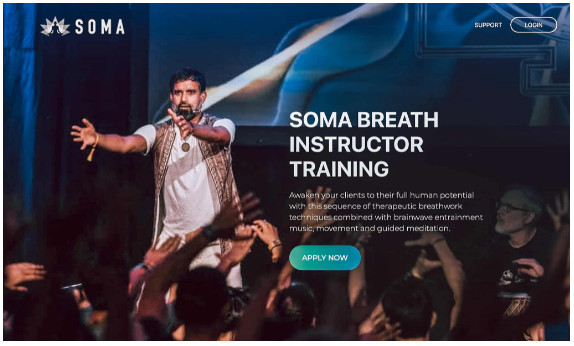 This course covers the science of breath, music, and meditation as therapeutic tools, as well as five basic breathwork methods to help your students reach their maximum potential. In Level 1, you'll learn how to do SOMA Energized Meditation step by step, and in Level 2, you'll learn how to lead a complete Awakening Journey.
How to get the most out of your 200-hour yoga teacher training
"There is no end to self-development. It's work, step by step. The gift of yoga is you don't have to jump to the top of the ladder. Take the first step. Don't worry about the last step. What presents itself to you is the next step. Then the next step becomes obvious. But if you try to figure out how to get to the top, you may become discouraged and go away."
-Gary Kraftsow, Yoga for Self-Transformation
Remember that you will not be a fully qualified Yoga instructor after completing a yoga teacher training program. You are, first and foremost, a Yoga student. We are always learning and developing. Maintain this modest, inquisitive mindset throughout your life, and your teaching (and life) will shine.
Leading people on their yogic journey is both a pleasure and a huge responsibility. Keep in mind that we're all on this path as students.
Find a yoga teacher training near me.
We all know we should be practicing yoga at home, but why not when we could go to an online training? While attending lessons at a local studio can be more convenient, efficient and productive. According to studies, having a home practice promotes better health and well-being. It also saves money, improves self-awareness, encourages play and self-discovery, and increases discipline. Plus, when you are disciplined enough to practice yoga at home, making the transition into yoga instructor training will be a little easier, as you will already have a regular home practice.
According to 2012 research, the frequency and length of your yoga practice at home may be the key to getting the most significant health advantages from it. Researchers sent anonymous questionnaires to 4,307 randomly chosen participants among 18,160 Iyengar practitioners at 15 Iyengar studios throughout the United States for the study. Physical, behavioral, and psychological well-being were all assessed by the researchers.
Choose the hours that work for your yoga instructor certification.
Some people find that completely removing themselves from their daily lives and attending a retreat-style yoga teacher training is much more beneficial for learning. Others find that completing their training in their hometown on nights and weekends is the most convenient option.
Before you join up for something, you should think about it. If you know that life will distract you from your yoga instructor training studies, you should probably get out of there.
If you know you require time away from the classroom to process information, scheduling your teacher training over a more extended period will be more beneficial with breaks in between sessions.
Consider your learning style and how much life will serve as a distraction from your studies. You'll have a better sense of what type of training will be most beneficial to you after that.

Also Read>>> Online Yoga Schools
Make sure your training is yoga alliance certified.
As the world's regulatory organization for yoga, the Yoga Alliance has established the minimum requirements for a well-designed 200-hour teacher training program.
If you wish to teach yoga in the future, be sure the yoga instructor training program you select is certified by the Yoga Alliance; otherwise, you won't be covered by insurance.
I know it doesn't seem very yogic, but insurance is a part of the reality we live in, and it's essential to remember when you're looking for a program.
I'm not suggesting that attending a non-yoga Alliance certified program is a bad idea—there are much excellent non-accredited training out there—but you should be aware that your chances of safely teaching increase with this certification.
To depart, congratulations!
Congratulations on taking this new road, dear yogi! Yoga may help you open your mind and heart more fully. And if you accidentally teach right instead of left or miss a step in your sequence, know that you're not alone. It is something that every teacher, even the most experienced ones, has done. And students continue to return!