beach blanket bhoga
Published: 06-06-2012 - Last Edited: 16-11-2022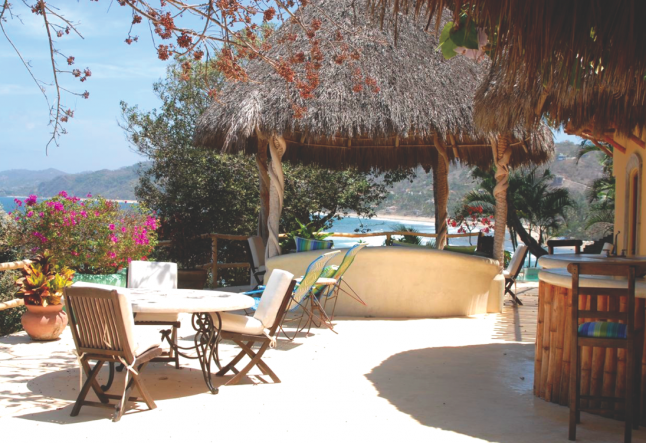 surf-yoga retreats in tropical sayulita bring some joy back to the practice
Bhoga? Sounds bogus, right? But bhoga is a totally legit Sanskrit related to basic enjoyments and pleasures. If austerity has led you to the rajasic side, try a little bhoga. Take a vacation without leaving your practice behind. Somewhere like Mexico""redefining "leisurely" because ordering a soda might take an hour""is a perfect spot to give yourself a break.
About an hour's drive from Pacific-side Puerto, Sayulita is a small fishing village-cum-surfing haven supported by the international travelers who'd rather bypass the luxury developments of nearby Punta Mita (though a surf-snorkel day trip is a perfect outing) in favor of beachside Negra Modelo and chili-sprinkled jicama. The winter/spring swells can be forgiving for a beginner, or they might just pummel the natural cove. Frankly, the main hazard for a novice is learning to navigate longboard traffic with appropriate etiquette (locals, not ladies, first).
Ambling the dusty cobblestone streets, past the sanctuary where the camouflaged iguanas lounge in low-hanging branches, it's a mellow maze of uneven narrow paths and wafting scents of coconut and heavenly chocobananas. While Sayulita managed to keep the Hiltons and Hyatts out, it's still a budget tourist destination""though a growing hip quotient of eco-conscious California thirtysomethings owns homes here. Imagine Puerto Vallarta before Puerto succumbed to the yard-long margarita (and its matching souvenir glass).
As for a yoga getaway, there's the Las Olas Surf Safaris, where female-only classes allow unwinding after the surf frenzy. Up in the jungle, uber-rustic Haramara offers a full-on retreat from the trappings of modern society. And balancing just enough structure to keep Type A brains functioning at the barest minimum with plenty of freedom and time to explore, Seattle-based outfitter Via Yoga branches a serious commitment to both asana and vacation in a new hybrid of the deluxe holiday. Its weeklong surf/yoga programs are no less about turning inward, but that doesn't mean foregoing a night of salsa dancing and a little tequila with your fish taco. Sun-soaked Sayulitans love to party, and when in Rome, one shall do as the Romans do.
Owners Kelly Kemp and Michelle Gantz-King hand-pluck the finest yoga and surf teachers and whisk diverse little groups down for these camps (rates from $1,895 to $3,095; viayoga.com). Their roster of top-notch instructors, like Scott Blossom and Chandra Easton of Berkeley, Matt Pesendian of Santa Barbara and Lauren Hanna of New York, are surfers themselves, so classes are specifically tailored to accommodate for the shoulder work required to paddle the seas.
The teacher's yoga retreat challenge is quite often the variant meaning of "all levels." In L.A., a vortex of nubile yogi pretzels, all levels makes for, in the end, just another 2/3 class. On vacation, there may just be the errant husband dragged along, discovering his toes for the first time. Throw in a rather acrobatic naturopathic doctor, various executives and music biz honchos, and the mom from Saskatchewan who learned yoga via DVD. Now that's all levels.
At the far end of town proper, the sprawling terraced grounds of Villa Amor serve as Via Yoga's homebase. It's the granddaddy of area lodgings, a thoroughly deluxe smattering of gargantuan one- and two-bedroom villas, each with kitchens for entertaining and decorated with the labor-intensive filigree for which local artisans are celebrated: wrought-iron beds, inlaid-tile dipping pools, and thatch roofs dotting the vista. From this open-air cluster of villas nestled into the manicured hillside overlooking the broad expanse of the bay, view the fiery sunrise and check out surfers hitting dawn patrol.
Up a steep set of garden stairs is an open-air yoga loft, where meditative zephyrs blow in through the mornings and afternoons. As high sun beams down, the ocean views from this palapa perch beg not for more asana but rather surf time. Vendors hocking everything from silver baubles to Ecoist-looking purses to what we lovingly know as savasana blankets parade tirelessly from one stretch of the crescent-shaped sands to the other. There's a sort of Lonely Planet feeling when catching a whiff of petrol from the pangas pulling to shore from their early morning troll. Chances are, your dorado or shrimp dinner was caught by that very fisherman.
When practicing bhoga, there's no boot camp wrapped under the guise of a vacation with every nanosecond scheduled by a clipboard-wielding teamleader. So take that afternoon catnap after your complimentary massage, or indulge in an extra side of guacamole. "Last year, I came to Sayulita with the impression that people would be really gung-ho about the yoga classes like usual retreats," says Blossom. "By the end of the week, people were drinking tequila every night. I knew this year I'd have to relax my expectations a bit and go with the flow."
In the realm of yoga travel, there would be no judgment if you opt for ascetic cave-dwelling in the Himalayas, of course, but where oh where would you find the chocobananas?
If you'd like to locate lifestyle writer/editor Alison Clare Steingold, she's probably inhabiting the yoga aisle at Bodhi Tree's used bookstore.
feeling swell in sayulita
eat: With Via Yoga's presence in this small town, restaurants are surprisingly hip to bromidic, dietary-conscious lingo (e.g. chiles rellenos, hold the queso). Check out Sayulita Fish Taco, right on the plaza. Expat Mark Alberto serves Baja-style local catch wrapped with soft hand-pounded masa tortillas.
indulge: A sprinkle-crusted frozen chocobanana at ChocoBanana.
drink: Absinthe at Bicyclette. Yes, the real-deal Green Fairy is available at this Frenchy dive.
refresh: Drink the fragrant water from a young coconut right on the beach""it's nature's Gatorade after a surf session.
shop: Fashion-forward pearl jewelry at Les Gazelles.
dance: Salsa Night at Don Pedro's.
Read next >> 4 cities in the U.S. for yoga and their individual styles