balancing baby and business
Published: 16-05-2017 - Last Edited: 04-10-2022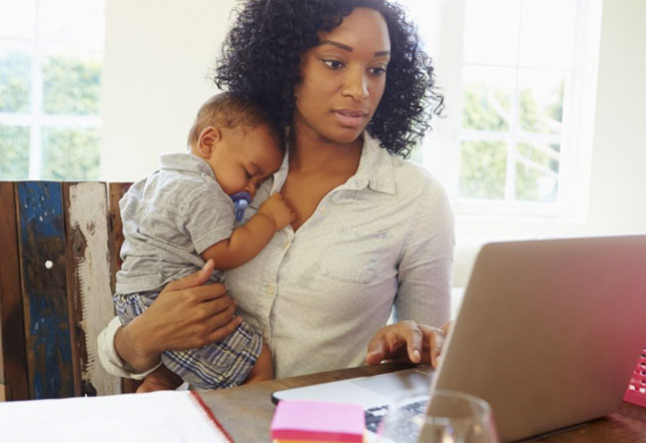 R
ecently, while leafing through Harper's
Bazaar
, I came across a story titled "Why Choosing Motherhood Is In Fashion," about women from the fashion industry and Hollywood "trading in dream jobs for diaper duty." A year before I got pregnant, my husband and I had a conversation about the whole
children thing
. I firmly put my foot down, informing him that I had no intention of giving up my career and my life to be a stay-at-home mom. Looking at me and shrugging, he said he never suggested I should, but I had to let him know before we embarked down the primrose path to parenthood.
I must add that I do not have nor have I ever had the opinion that stay-at-home moms are something to be disregarded or disrespected. Having spent most of the first year of my daughter's life confined to my own home, I have first-hand experience of how much work it is. Anyone who has been through the first year of motherhood holds stay-at-home moms in the highest regard. Yet while growing up I always knew that I would not be one. 
My mother was a child of the '60s and she spent the better part of my youth telling me about how her generation got women out of the house, aprons off and into the work force. Women's lib, the burning of bras, public protests – we are all familiar with this story. Somehow she made it seem that being an at-home mom would and could never be fulfilling. In my heart I thought maybe that was something I would explore, even if only in defiance of her avid opinions about the subject. 
So why are all these women trading in their careers for motherhood? The Gwyneth Paltrows, the Phoebe Philos (creative director of "Chloe") and the Kirsty Humes (top fashion model)? Have they lost their minds or are they realizing that motherhood is not to be missed and that being an at-home mom can be and is indeed fulfilling? Mother, can this be true?
Cut to 20 years later during the pre-pregnancy conversation with my hubby and me sounding like a clone of my mom. Yikes. When my daughter India was first born I was determined not to miss one moment of her young life, but at the one-year mark I found myself longing to pick up the pieces of my work and find a new outlet for my self-expression. Not willing to go back to work full time, I wasn't willing to stay at home indefinitely either.
The only solution was to integrate and balance my career and my life as a parent. Naturally, this decision was one that my husband and I had to make together. Blessed by the fact that he works from home, we decided that we could share the responsibility fifty/fifty without the help of a nanny or daycare. 
I teach prenatal and mommy-and-me yoga, I work with non-profits and am shamelessly promoting my prenatal yoga DVD. My daughter comes with me to meetings, photo shoots, classes, workshops and conventions whenever possible. And when she is not with me, she is with her daddy. When daddy is writing or doing whatever else he needs to do for his work, India is with me and the time with her is satisfying and divine. When I am working without her nearby I do my best to focus, reminding myself that she is in good hands and working to set the best example I can for her and her future as a woman.
As I write this, she naps. I can hear her cooing on the baby monitor that sits next to my computer. And, yes, sometimes it is hectic, it is chaotic, I am exhausted and I spend entire days in my bath robe as I try to get too much done…but I would not want it any other way. I am grateful, though, that twice a week we have lovely Aga, our childcare expert, in our home to spend time with India. But still even then, one of us is always in the house.
I feel very blessed to have been able to make the choices we have made because I am able to achieve a happy medium between business and raising a baby. I am at peace (most of the time). India is happy, independent and loved completely. I think that she will grow up with a good work ethic without the desire to have some high-octane dream job. Maybe I am just projecting my desires. And if she wants to be a loving at-home mom, I will support her in that too.
As far as advice is concerned, I have none to give except that I encourage all moms to follow what feels right for them and their families. A woman may give up that dream job in exchange for apron strings and resent the hell out of her kids. Maybe she is better off focusing on her career and hiring a caring nanny. Or sometimes, a woman will be at home and know THAT is, in fact, her "dream job." I cannot say.
For the moms who have no choice and must go back to work, I bow down to you because you are the moms who are truly doing it all.
You also might like to learn about
how to switch on to conscious parenting