goat yoga in the city
Published: 07-09-2017 - Last Edited: 14-11-2022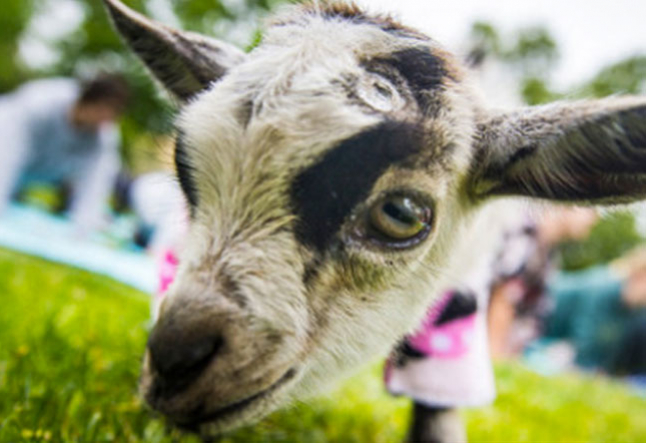 ruminating on ruminants
Yes, goat yoga is a thing. And you don't have to travel to the pastures to experience it. I first practiced goat yoga at a regular yoga studio in a strip mall on Santa Monica Boulevard. I had seen a picture online of rolling hills and a red barn, where you could do goat yoga as part of a six-day journey into you, but I couldn't make the time or dollar commitment for a retreat. So, I got my goats in the same location that you could also get Pizza Hut, a colonic or self-serve frozen yogurt.
The goats were the last to arrive in a sold-out room of thirty or so squealing yogis. Everybody had their cameras cued, and in Insta-worthy outfits, we promised to take pictures of one another if something cute happened to us. The front door opened, and with sunlight streaming in, cute walked in and the murmurs dwindled.
At first, I was disappointed to see only two goats, on leashes. Despite having walked around the block prior to class, they announced their arrival with an outpouring of bodily matter (golden streams and bouncy pellets to be exact). Their names were Spanky and Pippin, and they were just a couple of Nigerian Dwarf Goats looking for a good time. The company providing our furry friends was aptly named "Party Goats," because, in addition to goat yoga, these four-legged bearded yogis also make party appearances, like a couple of Kardashians.
The sweeping and the scooping that trailed behind them in a procession to the front of the room served as a metronome for the deep ujjayi breath that a standard vinyasa flow class asks of you. It was finally time for us to start doing yoga postures, which seemed superfluous and unreasonable, like that time on The Office when work got in the way for Michael Scott when it was hot pretzel day with unlimited toppings right downstairs.
On the very first cat cow, and there are many cat cows and planks in a goat yoga class, as these poses have you low to the ground and with a relatively flat back, treats were dangled above my head, and Spanky jumped right on top of me. What a surprise that I was the very first person to be honored this way! His toenails and rough hooves dug in, and he felt heavy. In fact, he was pretty heavy, weighing in at thirty-five pounds. Pippin was even heavier, so she is trained to only sort of stand on you, with two legs instead of all four.
But not Spanky. Spanky walked up and down, back and forth, pacing like he dropped his money somewhere between my root chakra and my neck and was determined to find it. He tried eating a ball of my hair, and while his handlers lovingly intervened, I shook out snack crumbs and felt goat slobber dripping. I quickly realized that two goats were plenty of goats, and I both hoped and dreaded more attention from them as the class went on.
As we moved through the flow sequence, balancing postures, abs, and shavasana, I saw people get knocked over, peed on, bypassed, and harassed. Just when you think you're finally centered and present, Pippin and Spanky are there to topple you down, ignore you for someone else, or make you laugh. There was photo session time at the very end of class, where laughter, talking, petting, posing and (camera) flashing ensued for a good twenty minutes.
The experience of goats paired with yoga makes a lot of sense, once you've done it if the point of yoga is to practice maintaining focus and being present both on the mat and in distracting or difficult life situations. I remembered during class that the word yoga means union, and by bringing goats to the city yoga class, it felt like we were one with nature, one with each other, and I learned things about myself that I didn't even know yet, like the noise I make when a toddler-sized farm animal walks underneath me. (It's a giggling guffaw sound that a fifth-grade boy would make after first making a loud armpit noise.) For thirty-five dollars, and a two-hour time commitment, is goat yoga worth it?
Like crushing on a jerk or cliff diving into the ocean, it feels horrible and fun, hilarious and ridiculous. I can't wait to do it again!
Read next >> 5 ways to integrate yoga in your everyday life