eco fashion anyone?
Published: 20-08-2012 - Last Edited: 16-12-2022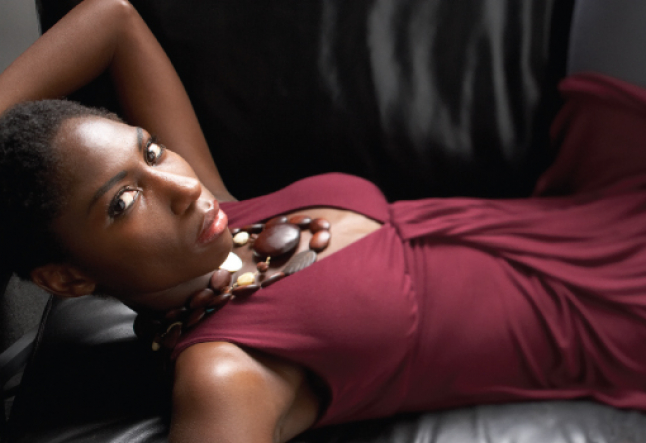 natural glow
You want eco-fashion? We've got eco-fashion! Yogi Times have selected for our lovely readers, a collection of divine Eco-Fashion treats that are all available online as well as in stores. Happy shopping!
Bamboo Drape Mini Dress by Sworn Virgins $108 swornvirgins.com
Bamboo Leggings by Sworn Virgins $38 swornvirgins.com
All jewelry by Shanti Designs shantidesign.com: Wood Ovals Mother of Pearl Necklace $65; Wood Ovals and Wood Leaf Necklace $75; Raffia Pod Field Spar Necklace $275
Organic Stretch Cotton Netting Limu Long Sleeve Top by Linda Loudermilk $460 lindaloudermilk.com
Hemp Wool High Wasted Pant by Deborah Lindquist $350 deborahlindquist.com; Vintage Belt (Stylist's own)
Recycled Cashmere Ruffled Sleeveless Turtle Neck by Avita $176 avitastyle.com
One of a Kind Couture Reclaimed Lace Collar by Linda Loudermilk – lindaloudermilk.comSilk Mousse Line Spatter Skirt in Lava By Linda Loudermilk $954 lindaloudermilk.com
Three Malas worn as a bracelet by Shanti Designs $20 each shantidesign.com
Vintage Ring (Stylist's own)
Partly Party Dress Fashioned from Recycled Fabric by Armour Sans Anguish $200 – Available at btcelements.com
Jade and Green Garnet Necklaces by Shanti Designs $175 & $100 shantidesign.com
Reworked Vintage leather Gingko Belt in Midnight by Linda Loudermilk $450 lindaloudermilk.com
Recycled Cashmere Open Back Tunic by Avita $140 avitastyle.com
Certified Organic Cotton Cropped Leggings by Ecoganik $72.50 ecoganik.com
Bamboo Jersey C-Sleeve Tunic – Undesigned by Carol Young $170 undesigned.com
Photographer- Michael Segal –michaelsegalphoto.com; Stylist – Arturo D. Chavez; Hair/Make-up – Melvone Farrell – Kerastase/MAC Cosmetics – PhotoGenics Media.com; Talent – Fatma – Photogenics – PhotoGenicsMedia.com; Producer – Molly Roemer; Assistant Photographer – Jeremy Montemagni
If you are looking for Organic Yoga Pants, visit the YOGI TIMES BOUTIQUE to discover curated, artful and ethical brands that enhance your lifestyle.