the mystique of zhena's gypsy tea
Published: 23-10-2012 - Last Edited: 29-01-2022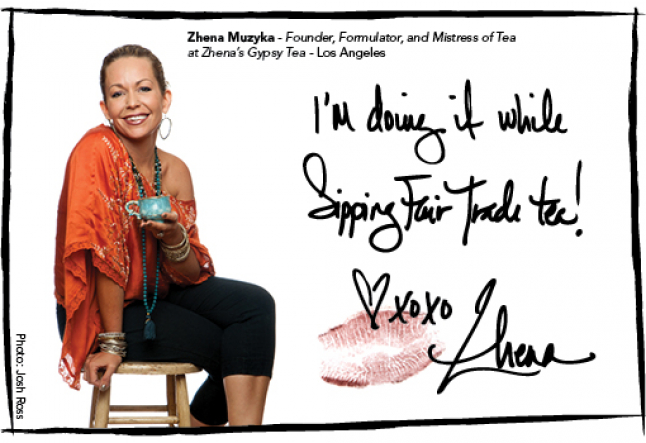 Every business needs a story, and who better than a gypsy to tell a good one? This is no fish tale, however. It's a rattling, colorful narrative of entrepreneurship born of necessity.

Zhena "˜pronounce-it-any-way-you-like' Muzyky has elevated the craft of storytelling to a fine art, as anyone who's picked up a tin of Zhena's Gypsy fare trade Teas can attest. In a crowded and sometimes ruthless industry (the domestic tea business is $5 billion and climbing), telling a story remains one of the best ways to distinguish a brand.

"These individual nests were formed with a sacred blessing from the ancient hands of Tibetan grandmothers, praying in caves dimly lit by the faint glow of the blossoming moon." – From the product label for Zhena's Awake Now tea.

Unlike the yoga business, which offers anyone with a mat and a mantra a fair shot at succeeding, the tea industry is dominated by a few giants. Tazo Tea is owned by Starbucks and distributed by Kraft. Celestial Seasonings merged with the food conglomerate Hain Group, to form Hain-Celestial. Proctor & Gamble and Nestlé have a huge share of the institutional tea market. And Oregon Chai was purchased by a large Irish firm. Yet The Republic of Tea, Zhena's, and other small producers have so far managed to maintain their independence.

With established brands such as Estée Lauder and Kellogg opening new avenues for tea delivery to consumers in cosmetics and food products, the potential for growth is, well, celestial. At Whole Foods in San Francisco, Whole Body Team Member Michelle W. states, "Sales are fantastic for all the teas. We go through thousands of dollars in teas every day. People use teas now for everything, adding them to herbal regimes, or for relaxation, for sports, and many are using tea as an inexpensive introduction to the benefits of herbs."

"My gypsy grandmother used the flowers of this blend as a hair rinse. The scent was what she called "˜the scent of angels.'" – From the label of Zhena's Chamomile Blessings
Many of her tins offer tips on palm reading, a nod to her heritage and to her practical experience as a palm reader in Kansas. "That was another life," she says. By the time she was 25, Zhena had won a full scholarship to college and a creative writing award. She has an unfinished (and we'd wager, highly entertaining) biography of her Ukrainian hitman grandfather in a drawer somewhere.

It is one of many projects she has had to leave behind as her tea business has rocketed her to fame in the natural foods world. In just one month in autumn 2005, she signed up 700 new stores in the US to carry her teas. "It's exciting. What we've found is that the larger grocer/retailers are looking for something feminine, fun, organic, fair trade, and we fit the bill. What I've found, too, is in grocery, a lot of the women buyers are single moms or women who have really had to climb their way up through the sweat of their brow, and they love the story and they want to support it."

Described by her employees as invigorating, an overachiever and inspiring, it is no surprise that Zhena's focus and persistence have paid off. What other single mother without medical insurance, with a desperately ill child who needed surgery would believe that selling tea from a rolling cart in Ojai would be her salvation?

She demurs, "If I'd known what I was getting myself into, I probably wouldn't have done it. It's a miracle that nobody told me how hard it was going to be. They all just said, "˜Tea, whatever. Like the world needs another tea company.'"

Her son Sage's illness and her total lack of resources "really threw me out of my safety zone and helped me to create something unexpected. I thought I was going to be a writer from the time I was born. I mean from the minute I could pick up a pen, that's what I did." She laughs easily now at her early missteps and mistakes.

"[On] our first product, we left off the brand name! I joke with people that my learning curve was so steep it was bent backwards!" She had never intended to use her own name on the product, nor to have her own picture on the label, but as the company has grown, she has come to appreciate the way in which it authenticates her deep commitment not only to her business, but to her sense of service, and how the tea sales can help her fulfill that goal.

Is there a gypsy in all of us?

"I think there is, kind of like women who run with the wolves. There is that wild side of us. There is a gypsy within us and it needs nurturing and it needs to be brought out and it needs to be seen and heard and validated and enjoyed."
While several other specialty tea companies tout their fair trade and organic certifications, and even Unilever, which owns Lipton's, professes its commitment to sustainable agriculture, Zhena goes the extra mile for her suppliers – claiming that her tea-picking women receive healthcare, maternity leave, childcare and education.

Whether it's Wayne Dyer's "The Power of Intention," – a source of much of her insight – or the force of her own good intentions, something is happening with Zhena's tea products that could best be described as karmic abundance. The company is doing very well.

The official credo for Zhena's Gypsy Tea, which she requires all of her employees, shareholders, vendors, partners, certifiers, retail partners and representatives to digest and honor, reads like a modern-day gypsy manifesto for do-gooders. It requires an "entirely pure, organically-grown product line of tea" in which all teas are "unique…of the absolute highest quality and without any artificial or chemical compounds," and also mandates that "all flavor extracts, essential oils and natural flavorings be Allergen Free, GMO free, and contain no chemical carrying agents such as Propylene Glycol. All packaging is fully recyclable or derived from recyclable materials."

"The elements of the gypsy's timeless journey can be tasted in each cup of my tea." – from Zhena's product labeling and marketing mantra.

Sage is well now, and his beautiful Bohemian mama is kind and unafraid to set limits when he pushes her buttons. In business, she is a portrait in contrasts, both nurturing and fearless. She appears bright, capable and is so devoted to her company that she is only stumped by one question in an interview: What would she do if she had a great offer to buy the company? "I don't know," she says. "What would I do? I suppose I could start something else, but why? This is what I do and I've learned the hard way the things I need to learn [to be successful]."

The tea business, while not incidental or inconsequential, is a means to a visionary end. Zhena seeks to empower women around the world to improve their own lives, to generate more resources to care for their children, and to protect them from abuse, violence and injustice. She donates a portion of the profits of all of her teas (she has a library of 300+ blends) to causes she believes in, and has personally overseen the distribution of healthcare and education funds to the tea pickers who are helping make her a household name.

"By sharing my heritage through these flavourful blends, you, too, can hear the soft singing of your own gypsy soul." It's the closing message from Zhena on most of her tins of tea, and it is a call to action to everyone who dares to explore the gypsy within.