Vegan French Onion Soup
Published: 20-06-2012 - Last Edited: 10-11-2022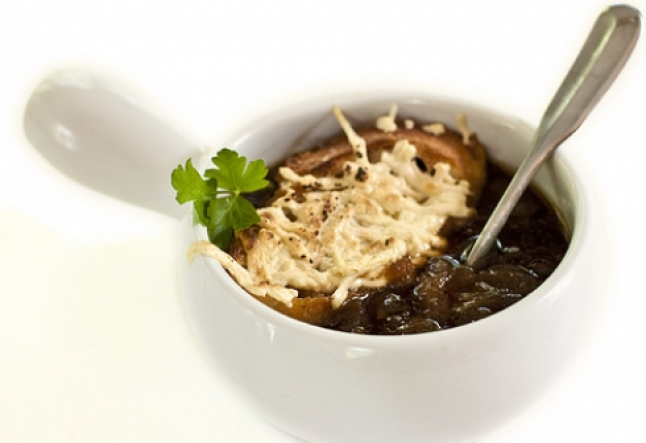 Vegetarian Vegan French Onion Soup Recipe Halthy
Whether or not French is your mother tongue, your mouth will say yes to this rich, decadent, decidedly French soup.
Like Macaroons, great art, and the perfect baguette, French onion soup has a very important secret ingredient: time. No need to stand at the stove for all of it-much of the time is in allowing the onions to properly and completely caramelize. The finishing touch of crunchy crouton covered in melted vegan cheese brings enough texture to this stunning soup to make it a meal in itself.
Savory, rich, and indulgent, this soup is the perfect combination of flavor and texture.
In a large stockpot over medium heat, add oil and a layer of onions, and sprinkle with a pinch of the salt. Repeat layering onions and salt until all the onions are in the pan, and allow to sweat for 15 minutes. Continue to cook for another 90 minutes, stirring occasionally until the onions have turned a dark, rich brown. You might be tempted to rush this step. Don't-it's critical.
Increase the heat to medium-high and pour wine over onions, stirring as it reduces to a syrupy consistency. Add thyme, bay leaves, and garlic. Add broth and bring to a boil.
In a small bowl, combine tamari, vinegar, Worcestershire, Dijon, and arrowroot and then stir into the onions. Reduce heat to low-medium, cover, and simmer for 20 minutes. 
When ready to serve, cut bread into large rounds that just fit inside your soup bowls. Sprinkle vegan cheese onto each slice of bread and place under a broiler to melt. Ladle soup into bowls and top with cheese-topped bread. Garnish with a sprig of parsley.
Allison Rivers Samson is the owner of allisonsgourmet.com, an award-winning artisan bakery and confectionary boutique.
Read next >> raw vegan kale soup