vegan leek, potato and thyme frittata
Published: 11-03-2014 - Last Edited: 17-10-2022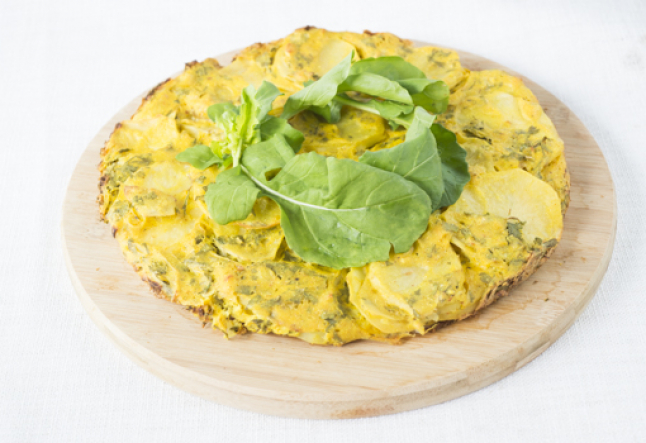 Vegan Leek, Potato and Thyme Frittata Vegan Recipe
Pre heat oven to 375F or 190C.
Remove the greens from 2 leeks and discard. Slice the whites of the leeks very finely. Slice 2 potatoes into very thin rounds. Chop 2 garlic cloves. Roughly chop 1 handful of parsley. Remove the leaves from 8 sprigs of thyme.
Heat a pot, add ½ a cup of water. Add the sliced leek whites and chopped garlic. Saute until soft.
Place 500g of silken tofu, ¼ cup of nutritional yeast, ¼ cup cornflour, 1 tbsp of dijon mustard and ¼ tsp of turmeric powder into a food processor. Process until smooth and creamy. Add ¼ cup of water if needed. Add salt and pepper to taste. Then place in a large bowl.
Add the sliced potatoes, parsley, thyme leaves and the sauteed leeks and garlic to the tofu mixture and combine well.
Place a sheet of baking paper into a rectangle baking dish. Pour the tofu vegetable mixture into the dish. Place in the oven and bake for 45 minutes or until thoroughly cooked through with no moisture in the middle and the top is firm and golden brown.
Remove from the oven, top with the baby arugula and place in the center of the table, cut and serve.
Recipe By: ifeelgood.com.au
Check this recipe >> Brown Rice, Roast Pumpkin & Raisin Vegan Salad