kale, avocado, pumpkin & goji berry salad
Published: 09-12-2014 - Last Edited: 17-10-2022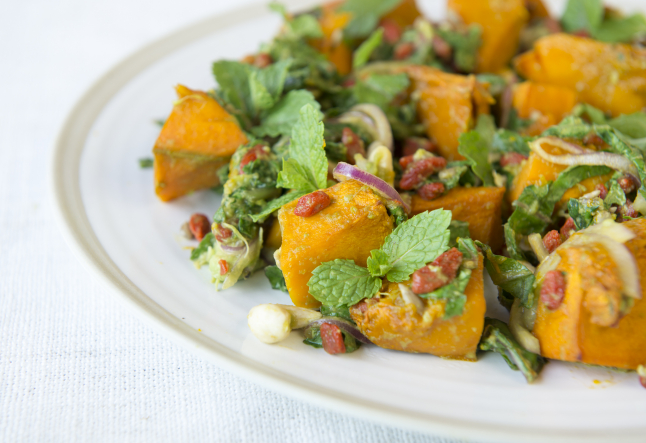 Vegan Kale Avocado Pumpkin Goji Berry Salad Recipe
Heat the oven to 200C/400F.
Chop quarter of a pumpkin into bite size pieces and place onto a baking sheet. Sprinkle with some salt and pepper. Place in the oven and bake for 20 minutes.
Meanwhile, roughly chop four handfuls of kale and place in a large bowl. Add one cup of dried goji berries. Add a quarter of a cup of sunflower seeds. Add half a cup of raw cashew nuts.
Thinly slice half a red onion into crescents and place into the bowl. Place the the meat of two avocados into the bowl. Add the  juice of one lemon. Add salt and pepper to taste. Mix/mash with your hands so the avocado softens the kale leaves. Remove the pumpkin from the oven. Add the pieces of roasted pumpkin to the bowl. Mix well.
Serve on a platter and enjoy.
More recipes at ifeelgood.com.au
Read next >> Summer Bounty Quinoa Salad