vegan chunky curried roast pumpkin & chickpea soup
Published: 17-03-2014 - Last Edited: 17-10-2022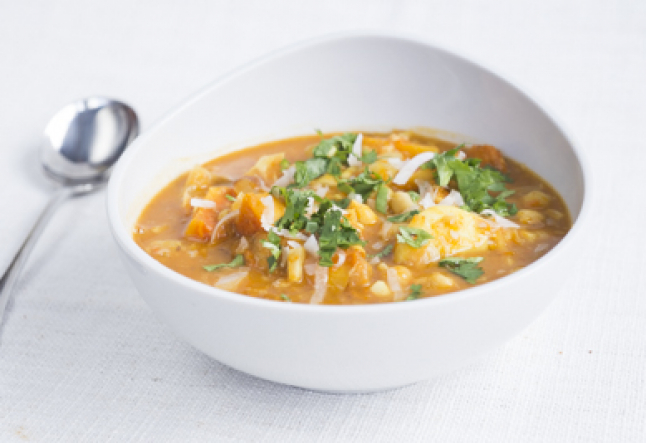 Vegan Curry Roast Pumpkin Chickpea Soup Healthy Recipe
Preheat the oven to 395F/ 200C.
Peel and cut 1 medium pumpkin into bite sized pieces. Place the chopped pumpkin onto a tray lined with baking paper. Peel and chop 1 onion into quarters and place on the tray with the pumpkin. Place 2 whole garlic cloves (unpeeled) on the tray with the pumpkin. Sprinkle the pumpkin, onion and garlic with some salt. Place them into the oven and roast for 15 minutes or until the pumpkin is golden brown.
Remove the pumpkin, onion and garlic from the oven. Remove the skin from the garlic. Place the garlic, onion and pumpkin in a pot. Add 6 cups of vegetable stock. Add 3 cups of cooked chickpeas. Add ¼ of a cup of shredded coconut. Add 4 tsps of curry powder. Stir well. Place the pot on a high heat and bring to a boil. Reduce the heat and simmer for 5 minutes. Place ½ the soup mixture into a blender and puree until smooth. Add the pureed mixture back to the pot and mix well. Add 2 tsps of garam masala. Add the juice of 1 lime. Add salt and pepper to taste. Mix well.
To serve: Spoon the soup into 4 bowls. Top with some shredded coconut and cilantro leaves.
Recipe By ifeelgood.com.au

Check this recipe >> simple raw miso soup