creating a personal sanctuary
Published: 04-11-2011 - Last Edited: 12-08-2021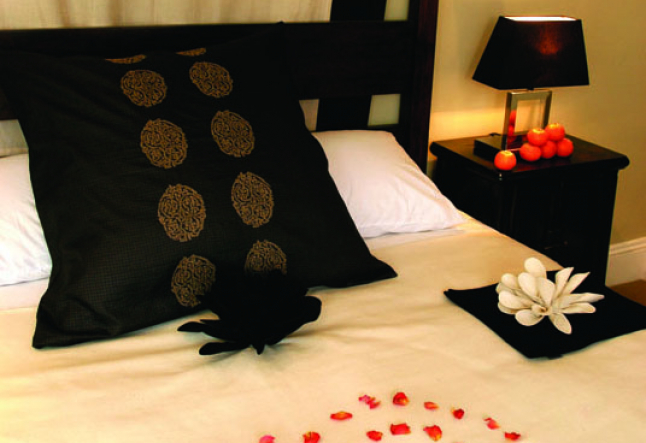 transform your home using all five senses
As Californians, our homes are our sanctuaries. Blending indoors and outdoors with ease, using our homes for business, pleasure, and the at-home yoga practice, we are a special breed that seeks to make home a tranquil space to kick back and relax. While we love our special blend of California living, for many us, we're at a loss on how to achieve that personal sanctuary we really desire. That's where design gurus like Alex Ray come in, guiding us on how to take a humdrum space and turn into a sensual paradise.
Alex is the Director of Five Senses Interiors, an interior design firm based in Corte Madera, which is focused on transforming your environment by stimulating the five senses. Alex's design philosophy touches on the senses of sight, sound, smell, touch and taste, elevating one's interior through sensual enjoyment. Feeling that people should live with things that inspire them, Five Senses is about being in touch with each sense in your living environment.
Quoting one of her favorite interior designers, Ilse Crawford, Alex says, "Home is more than just a place to sleep and eat. It is a place to sustain ourselves intellectually, physically, even spiritually," Alex is happy to share with Yogi Times readers how to achieve this spiritual space. Whether in a large Marin estate or in a small San Francisco apartment, Alex has tips on how we all can achieve a living environment that inspires, relaxes and tantalizes each one of our five sensory organs.
The first step to creating your sensual sanctuary is to make a checklist. Begin by asking yourself, "Where are you in your life? What possessions do you have right now? Do they reflect your current personality?" If you used to be Goth but are now into Buddhist statues and tranquil fountains, then it might be time to change your style. This first step is key to the rest of your five senses transformation, as it's about truly getting in touch with yourself and what you desire.
After getting in touch with your specific design style, identify what you need. Alex has a list of questions designed to help you achieve these answers. Are you in need of a place where you can meditate or instead do you need a space where you can be more playful? In terms of each individual sense: What are your favorite colors? What are your musical tastes? Are you hot blooded or cool? What scents evoke pleasant memories for you? Alex invites each client to identify everything that is necessary to creating your personal sanctuary, whether it is de-cluttering an area of your home, creating the perfect kitchen for you too cook in, or the perfect entertainment center. Think about your needs and prepare to invest a little to reap great rewards.
Next, think about how you're going to bring all five senses together in your home. As a designer, Alex creates a moodboard when she's working with individual clients. Create a mental moodboard for yourself, focusing on enjoyable things that inspire you. Think about "what takes [you] off to a dreamy place, and make that happen."
Identify what stimulates your senses. Consider your favorite color, think about soothing sounds that you would like to introduce into your home, like the sounds of water, or birds gently cooing. Don't forget the impact aroma can have in your interior. Think about touch and textures that feel right to you, and tastes that are warm and inviting. As you continue on your sensory journey, no one sense should be neglected. "Where there are all five senses resonating, there is life in your environment."
In terms of small spaces, Alex advises to "always make one thing absolutely stunning." Create a focal point. "A different piece of furniture can completely change the way you live in a space." And don't forget about functionality. Five-sense style is not about opulence, but instead, making the space function for your needs in way that excites your deepest senses. And whether in a small or large space, be willing to edit and pare down. Editing makes way for new life and sensory elements that you can enjoy in your environment.
Finally, Alex's last piece of advice is not to be afraid to call a professional for help. Creating your sanctuary should be an invigorating experience. For some this experience can be overwhelming and confusing.
When that is the case, contact a designer to help you create the sensual space that you deserve. And always have faith in the process. Instead of procrastinating or getting bogged down by the project ahead of you, know that with Alex's five senses tips you can transform your home in a day, or even a couple of hours. Through little changes, you can make a huge transformation.
Alex Ray is the Director of Five Senses Interiors,
based in Corte Madera, CA. – fivesensesinteriors.com