7 empowering lessons I've learned as a yoga vagabond
Published: 27-07-2015 - Last Edited: 10-11-2022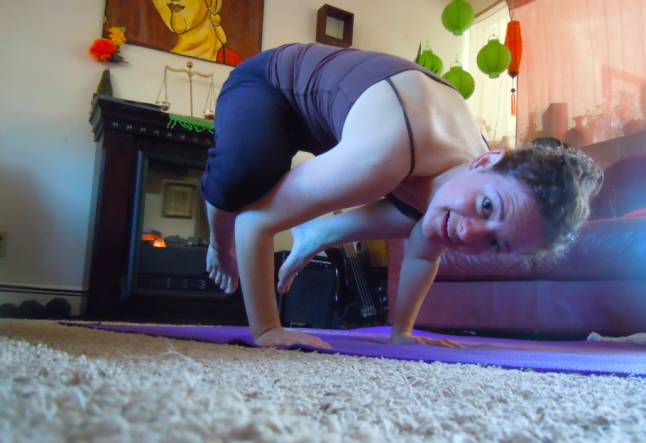 Vagabond – A person who wanders from place to place without a home or a job
My life over the last year has been that of a vagabond. In 2013, I quit my job in Alaska where I had lived for five years, sold everything I owned and hit the road.
That journey began with a weekend yoga retreat at Gray Bear Lodge in Middle Tennessee. It was at this retreat center where I first discovered that yoga was not simply a physical journey, but one for the mind, body and spirit. When the weekend was over, I was eager to develop my practice and begin the inward journey of connecting with my deeper self.
When I set out on my travels around the United States, I brought my practice with me like a piece of vibrant, carry on luggage. As I visited friends and family around the country, the universe opened up unexpected opportunities and taught me lessons that I would never have learned in a classroom.
1. Finding stability goes far beyond the mat.
Traveling in the Florida Keys, I tried yoga on a paddleboard for the first time and a few weeks later on a cruise ship bound for the Bahamas. In Seattle, Washington, I took an AcroYoga Workshop where I learned how to trust the stability of another person, rather than the earth. These experience brought a new layer of balance and unpredictability to my practice. On solid ground, finding my balance in standing splits is challenge enough. When I add the elements of an unsteady paddle board, the subtle shifting of a ship, or the feet of another person, I discovered that no matter what my foundation is, I have to trust that it provides stability.
2. Yoga builds stronger relationships.
While in an apartment the size of a shoe box in Austin Texas, I got my best friend Juju to explore a series of poses and stretches. She thought she would hate it for sure, but walked away from the experience feeling lighter and empowered. In Southern California, after overhearing a conversation, my cousin Ashland invited me to her yoga class. This simple gesture was the beginning of a genuine friendship. Having lunch at a park in San Fransico, I started a conversation with three guys behind me. Within minutes, we were doing AcroYoga and spent the rest of the afternoon chatting like old friends.
3. Tranquility exists in the most unexpected places.
With my hands and feet firmly in the sand, I felt the support of the earth and the calm of the waves on Huntington Beach in Orange County. Working at a Vineyard in Zillah, Washington my heart found stillness amidst chickens frantically swarming around me in the yard. By a pond in Central Park, New York I connected to my center and allowed solitude to pour over me. I used to think that being in a city or a busy environment made practicing yoga nearly impossible – at least outside of the studio. But, all I had to do was tune into my practice, and the crowds of the busy world fell away.
4. The natural environment can be frighteningly empowering if we listen.
During my travels, I went on hikes quite often. Alone under the canopy of a moist redwood forest in Northern California, I followed my breath through several flows. In Smokey Mountains National Park, I literally flew high above the tree line in bird pose. I visited the Grand Canyon in winter when the edges of the canyon were laced with snowy shrubs and icy mirrors. Heading down a path into the canyon, I stopped for several deep breaths in Lotus. All three of these – the giants of the redwoods, the height of the Chimney Tops, and the vastness of the Grand Canyon – made me feel humbled and small in their astounding beauty. But as my body moved with my breath, I felt a powerful oneness that I had never experienced in a classroom setting. I left each of these experiences feeling rejuvenated and empowered.
5. Goats like yoga too.
For a while, I lived and worked at Tickleberry Manor Goats, a goat farm in Tennessee. Tucked into the foothills of the Smokey Mountains I had my own personal retreat center. I often woke up with the dawn and before going out to milk the goats, I did yoga on the front porch surrounded by forests, vibrant flower gardens, and the cool air heavy with morning dew. Down to the barn, my hands found their rhythmic pattern of milking, and the barn itself was transformed into an Ashram.
6. The journey always goes full circle.
As my travels in the States came to a close, my journey brought me to the start: I was back at the yoga retreat center, Gray Bear Lodge. This time I was there for several weeks working to support the center. I spent time in reflection, going over my previous year of travel and the lessons I took away from it. It wasn't until then that I recognized the impact my yoga practice had on my journey.
7. You have the power to make it happen.
The biggest lesson I learned was that I had to be open to these experiences and create them. I had to put myself out there and sign up for classes, pull away from groups to find a quiet spot and recognize an opportunity to connect with someone, but also act on it.
It is so easy to get lost in the busy day-to-day routine of responsibility, and the good news is you don't have to travel around the country to connect with your practice in new ways. We all have the ability to step outside of our routine in the smallest ways and by doing so the universe works in empowering and inspiring ways. Wake up 15 minutes early and go out onto the front porch and do a few sun salutations. Take an afternoon trip to the park with the kids and teach them a few poses in the grass. Grab a friend or acquaintance and try a style of yoga that is new to you.
It only takes a few minutes to connect with your practice, yourself and even your environment. I encourage you, to also bring your practice with you where ever you go – like your very own vibrant piece of carry-on luggage.
Read next >> power living